How to Start a Blog and Make Money in 2023
Do you want to know how to start a blog and make money in 2023? If yes – you are in the right place.
In this blog, we will guide you through all the basics of how to start a blog and also answer some of the basic technical questions that many pre-bloggers need answers to get their first blog up and running.
And if you are thinking that anyone who starts a blog is some super professional guy who knows everything about blogging, then you are wrong.
[Advertising Disclosure: Missionearn.com makes profits when our readers make a purchase from our affiliate links. Also, as an Amazon Associate, we earn from qualifying purchases.]
What is a Blog?
A blog is another word for a weblog. A weblog is a website that is like a diary or a journal. A blog is just another website that focuses on written content, people mainly used it as an online journal.
As the web has grown and changed, blogs have gained more recognition and merit. Nowadays, blogs can be for businesses, news, networking, and other professional means. There are plenty of personal blogs out there, but overall blogs are being taken much more seriously.
Why should we start a blog?
Most blogs are started by people who want to share their ideas and thoughts. They post updates about themselves, their jobs, their families, and any hobbies or interests they might have.
On the other hand, many people start blogs with the hope of making money. Advertisements are placed on the sidebars and posts, and bloggers are paid per page view or per click.
Some businesses also start blogs to promote their products and also to get traffic to their website by posting useful content related to their niche.
Regardless of what motivations you have to start your blog, the bottom line is that blogging is one amazing hobby, and if done right, you can also make a very good living off it.
Why you should not start with a Free Blog?
You must have heard from somewhere that starting a blog is free. There are websites like Blogger, Wix, WordPress.com, and others that give you a free blog but a free blog has many limitations.
Your blog will be hosted on a subdomain like yourname.wordpress.com or yourname.blogspot.com.
It will have a lengthy URL, unlike yourblog.com.
There are many limitations to design & monetize your free blog.
You will have less control over the blog by the free blogging platform.
Moreover, It is very much difficult to shift from free to the paid platform (after getting some response).
How to Start a Blog and Make Money in 2023
1. Select a Niche for Blogging
This is the most exciting and crucial first step to starting a blog, this will shape the way you blog for the rest of your blogging career.
Are you going to be a fashion blogger? Do you prefer to blog about your travels? Maybe you're into technology. Maybe food is your jam.
Your chosen niche will help forge a path for your blogging topics in the future. It's not a hard and fast rule (some bloggers out there consistently cross topics with great success) but it's a guide that helps keep your blog focused and relevant to the right users.
So pick your niche. Pick out a name. Keep it simple short and catchy.
2. Choose a Blogging Platform
There are several free blogging platforms for you to pick from, such as Wix, Blogger, Tumblr, and WordPress to name a few.
But, WordPress.org is the most popular and best blogging platform for the last few years because of many good reasons.
It is one of the most powerful blogging platforms out there, powering 33.9% of websites on the internet today.
WordPress is also free, easy to use and it is SEO friendly. It also has numerous plugins that add extra functionality to your site without much technical knowledge or experience.
Also, it has 5000+ free and paid themes and you can find help on almost any topic on other blogs or youtube.
3. Select a Domain Name and Web Hosting
WordPress.com is great, but their free web hosting and domain name do come with plenty of limitations just like we discussed here.
To avoid these issues, you can always purchase your domain name and web hosting separately, Here's a step-by-step guide on how to get it done. You can check our Top 3 recommended Hosting providers.
Domain Name
This is the next important step of starting your blog, you'll need a domain name (your blog's address) so that you have an address (URL) for your blog online. Here on MissionEarn, our domain name is www.missionearn.com – every blog needs its domain.
There are numerous domain registrars out there like GoDaddy and Namecheap, but we like Namecheap because they are an awesome registrar and they'll even get you free WhoisGuard. This helps keep your identity secret, in case you want to blog anonymously.
The process is pretty easy and simple, just visit NameCheap.com, sign up, pick your domain name and you're done!
Choose your domain name in such a way that people can understand the topic of your blog from the name itself and it should be related to your niche.
Try and go for a domain name that's simple and easy to remember. Keep it catchy if you can. Do not take extensions like ".io" or ".biz" either, keep it to ".com".
Web Hosting
You might think that web hosting is just space for you to store your website files and it can be done on any web host, but you couldn't be more mistaken. If you want your blog to be successful, make sure that you're getting a web hosting service that's reliable, fast, and trustworthy.
You must have across a blog that loads slowly that you just couldn't be bothered to wait for the content to load? If you time yourself, you'll see that 3 seconds is all it takes for you to feel that the blog is slow, and 5 seconds is the average amount of time it takes for people to exit or bounce.
The role of web hosting is very crucial in making sure that your blog performs quickly and up to the mark, so you won't lose any readers due to unnecessary slow loading time or server crashing issues.
There are plenty of web hosting service providers in the market, but we would recommend you go for a dependable international web hosting brand, which is SiteGround, to host your blog. (MissionEarn is also hosted on Siteground)
There are also many cheaper options available in the market but SiteGround has great uptime, dependable customer service, and insanely fast server response time.
It is very easy and simple to get an account and set up your blog. Here are a few steps need to do:
1. Visit www.siteground.com to get your hosting plan.
2. Select "Get Started" to see all available plans.
3. We would recommend you to get the GrowBig plan ($5.95 / month) as it's a nice balance between price and benefits, you can also host unlimited sites with this hosting plan but depending on what your needs might be, you can either go for StartUp plan ($3.95 / month) or GoGeek plan ($11.95 / month). You're free to upgrade your account in the future if you need to.
4. Now you will see a page where you have the option to register a domain or to use your own. You should have your own domain name by now if you've followed the instructions on this guide, so click on "I already have a Domain" and Click "Proceed".
5. Here, you will have to fill in your details such as your valid email address, assign a password for your account, first name, last name, country, phone number, postcode, etc. If you want, you can fill in the name of your business, but that is not mandatory.
6. Scrolling a little further to find an area to fill in your payment details. Enter in your Credit Card details, card expiration, Cardholder name and CVV code (If you don't know what it is, it's the 3 digits at the back of your card).
7. Next, you'll see the purchase information section. You have to option to pick between a period 12 months (recommended) and 36 months. Select your desired plan.
The SG Site Scanner is not mandatory to purchase, so feel free to skip it. However, if you feel that you need additional security, then you can check that box and add it.
Lastly, check the boxes to confirm that you've read the TOS and Privacy Policy. If you want news and updates, then check that box too.
Boom! Now you have a new account with SiteGround! Click on "Proceed to Customer Area".
In Case of any queries contact SiteGround's live chat support, they are super helpful and will guide you through everything you need help with.
Installing WordPress
This section is a continuation of the previous section, but we're breaking it up into different parts for better understanding.
1. You should now see your siteground dashboard. Select the "Websites" field from the menu and then click on "New Website".
2. Now, it will ask you for a domain name, select "Existing Domain" and enter the domain name you have bought from Namecheap previously.
After you enter your domain name, you will have to configure Siteground Nameservers (DNS) with your domain name. It is a bit complicated step, for that you can head over to Youtube and you will find many useful videos to do so.
3. Next, you'll be directed to Add New Website page, Select "Start new Website" and select "WordPress" from the dropdown Panel.
Then, you'll be asked to enter the email address and password below, which will be the login credentials for your website back panel. Enter a valid email address and proceed.
Siteground will take a few minutes to set up your website, you'll receive an email on your entered email address when your website is ready.
Congratulations, you've just officially created your very own blog!
4. Designing your blog
In this section, we will be taking a look at what we can do to give your blog a more catchy look and feel.
Fortunately, WordPress has thousands of best free themes that are fully customizable, it also has hundreds of free plugins which also make your blog look highly professional!
Accessing WordPress themes
1. Log in to your WordPress account. It should be "www.yoursite.com/wp-admin". You'll want to switch out "yoursite" to your actual blog URL. Enter your WordPress username and password, then log in.
2. Once you're in, you should see your WordPress dashboard, which looks like this. Click on "change your theme completely".
3. Then, click on WordPress.org themes and you'll find thousands of themes to pick from! If those aren't good enough for you, go to Elegant Themes to purchase some good looking, professional and Elegant themes.
4. Once your theme is selected, click on "Live Preview", followed by "Activate & Publish" to install your theme.
5. Well done! your theme is now installed and active, but you'll still want to personalize and add a little content to your blog.
Adding pages to your blog
Your blog would be incomplete if you don't include an "about us" page in there to inform your readers what to expect from you.
1. Refer to this image to do other things related to your blog setup.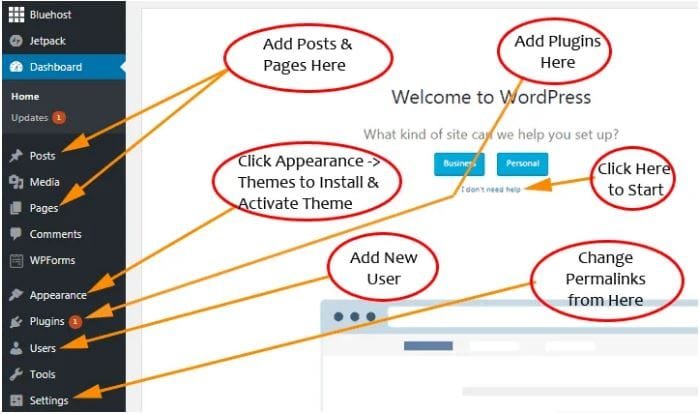 2. Under your WordPress Dashboard, hover over on "Pages" and click on "Add New"
3. You will be redirected to a page where you can fill in a Header and a Paragraph. Go ahead and write "About Us" in the header and write a little something about your blog in the "Paragraph". Once you're done, hit "Publish".
Linking pages to menu
Your menu won't be visible to you yet as you'll have to create if first and add your pages to it.
All you need to do is simply head on over to your WordPress dashboard, under appearance, click "menu". Your list of pages should automatically be added to the menu structure. If not, just check the boxes under "add menu items" and hit "add to menu".
Once you're done, click on "create menu" and your blog will be updated with your pages linked in the menu, and the menu will be visible on your site.
Adding Posts To Your Blog
Well, this is the main part of your website, this is the reason why you have invested in this. Your blog posts and right content will help keep you relevant, keep your site ranked in Google searches and position yourself as an authority in your niche. If you're doing it right, you'll even make a living out of it!
Before you start adding blog posts to your site, you will have to set it up so it makes sorting it all out much easier in the future.
1. In your WordPress dashboard, hover on "posts" and select "categories". You should see the screen below. Fill in all category names which you wish to have on your site for better sorting of the content. For this instance, you can just call it "Blog". Click on "Add new category" at the bottom.
2. Then, under "posts", click on "add new". You should see a page where you can fill in your post title and content. You'll have to enter your post name as well as your content. After you're done, look for the "categories" bar on the right side of the screen and check the box marked "blog". The current post will be added to the "Blog" Category.
Click on "Publish" and your new blog post is good to go! All you have to do now is add the categories to your menu, and you're all done.
Creating Customized Title & Tagline
If you want people to discover your blog and read your content, then you will have to closely pay attention to this part of this blog.
Your site title tells people what your blog is all about, and the tagline helps support what the title says. They also help search engines sort and send your blog to the relevant searchers, which is the most crucial thing here.
1. To customize your title and tagline, just go to your WordPress dashboard, go to "Settings" and click on "General".
2. There, you can change your site title and tagline to whatever you want it to be. Change it, then hit "Save Changes".
Disabling Comments
Sometimes, when you share personal thoughts on your blog, you don't want to have the comments section open to attacks by mindless trolls and have them leave rubbish comments.
To disable your comments section, visit the WordPress dashboard, go to "settings" and "discussion". Here, untick "allow people to post comments on new articles", and click on "Save Changes".
Create a Static Homepage
You want to run a blog, but you don't want your homepage to look like one. The homepage is the first impression of your website so it should be well designed and attractive.
A static front page doesn't change and it'll show your readers the same thing every time they visit your site, making it look more polished.
The homepage of your blog should always be static, a static front page doesn't change and it will show your readers the same thing every time they visit your site, making it look more polished.
To create a static homepage, do the following steps :
1. Go to your WordPress Dashboard, hover on "Settings" and click on "Reading".
2. Click on "A Static Page" then select the page you want as your homepage from the dropdown pages list, and then "Save Changes".
Adding or Removing Content on Sidebar
It is always good to keep content on the sidebar. Some people prefer to go for a cleaner look and do away with it.
Adding or removing content from your sidebar is quite easy.
1. Visit the WordPress dashboard, hover on "appearances" and click on "widgets".
2. Here you'll see a list of available widgets and your Blog sidebar. All you need to do is to drag and drop the widgets you want in your sidebar, or you can remove them as per your wish.
5. Installing important plugins
Plugins are like apps that allow you to add new features and extra functionality to your WordPress blog. You must install some essential plugins for your blog.
Hover on ''Plugins" and click on "Add New' and search for these plugins to install and activate.
There is an endless list of plugins for you to pick from but keep in mind that some plugins might slow down your blog. Do a little research on plugins and your blog will run smooth.
Here are some of our favorites plugins:
Yoast SEO: One of the best plugin for on-page SEO and you can even create a sitemap with this plugin.
Swift Performance Lite: It helps decrease caching time for WordPress, which speeds up your blog load times!
WP Smushit: Images are a great way to enhance the quality of your posts, but images take lots of storage space and at the same time slow down your blog. This plugin optimizes and compresses your image without reducing the quality of your images. It results in less storage and faster speed.
Google Analytics by ExactMetrics: This one helps you track the number of visitors your blog receives. Super useful in helping you set benchmarks!
6. Start Making Money with Your Blog
Different people have different purposes for starting a blog. Someone may start it as a hobby or personal blog. Someone may use this as a business blog and generate revenue from it.
However, making money with a blog is one of the most common goals to start a blog. Here are a few steps :
Be regular: You must write regularly after starting your blog. Your posts should have excellent research and original ideas where people can get something new. People like and share such content. More quality content you like, more the traffic you can get.
Promote your blog: This is the most important step to get the traffic on your blog. Making money without traffic is difficult. It takes time to get traffic on your blog.
There are many things you can do to get traffic on your blog.
1. Learn SEO and implement on-page & off-page SEO techniques on your blog.
2. Share your content on social sites like Facebook, Twitter, LinkedIn, Instagram, Pinterest, etc.
3. Write comments and guest posts on other blogs.
Monetize your blog: This is the ultimate aim of every blogger after starting a blog. There are several ways to make money from a blog.
We will keep it simple and suggest you just 2 ways as a beginner.
Sign up with Google AdSense here. Google displays ads on your blog similar to you see on this blog. When a visitor clicks on any ads, Google pays you.
You can also signup with Amazon Associate USA or your country (available in all major countries). Login to your associate account and get an affiliate link for any product you want to promote through your blog.
Whenever someone goes to Amazon by clicking on the affiliate link on your blog and buy something, you get 4% to 12% of the ordered amount from Amazon.
7. You're a Blogger
Congratulations, you've successfully built your blog! We helped, but you did all the heavy lifting by yourself, so you should pat yourself on the back!
Always remember, WordPress is highly customizable. You can create any kind of blog you want with WordPress, so keep on experimenting and customizing until you're 100% happy with what you've got!