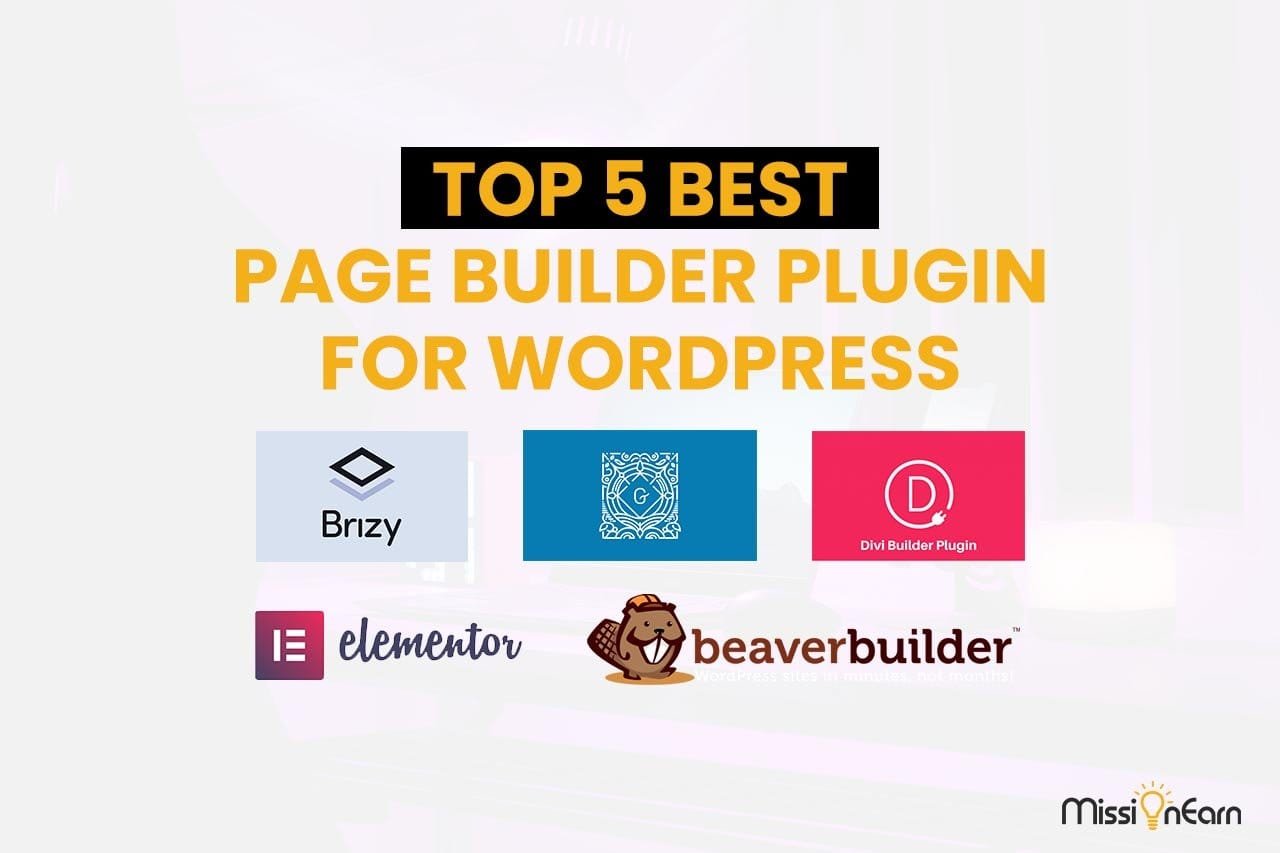 Top 5 Best Page Builder Plugin For WordPress in 2023
Are you Looking for the Best page builder plugin for WordPress? If you are running a web design agency or an ambitious freelancer you will always want better options to develop your websites.
A page builder's job is to make it easy to create and build beautiful web pages for your website. There are plenty of page builders on offer, but the right ones are hard to choose from the list.
The point of this article is to let you know the top 5 page builders for WordPress you should use to extend minimal efforts and get the best results for your agency and your clients.
[Advertising Disclosure: Missionearn.com makes profits when our readers make a purchase from our affiliate links. Also, as an Amazon Associate, we earn from qualifying purchases.]
Why Should you use a drag and drop website builder for WordPress?
Well, that's for a couple of reasons. The first reason is that the majority of WordPress website owners and managers' only other option is to hire website designers and they can be really expensive.
Hiring a web designer can cost website owners at least $1000, which is a hefty amount if you don't have a big budget. Using a drag and drop website builder can help you save money.
The second reason is that the drag and drop builders are becoming the new norm is they choose website templates or a theme and make changes to them using website builders of their choice.
The right website builder can save you a lot of time, and no coding or special techy knowledge is needed.
The third and final reason why you should design your website with drag and drop builder is the steller state of the market right now. The availability of several different website builders makes for a healthy amount of competition.
It means the website builders are constantly working and updating their products with the latest market trends. So they are always versatile and updated.
Here are the Top 5 Best Page Builder Plugin for WordPress in 2023.
1. Elementor Page Builder
Elementor is easily the most popular page builder on this list with a whopping 5 million active installations and an impressive 5-star rating.
It has a very user-friendly interface with a large and wide editing area at the center. You will see a content panel on the left that lets you add and edit blocks from a single place.
Elementor offers a lot of blocks for free. You'll also find many plugins that can add pro-level addons to your free version.
It perhaps offers the most number of styling options for its blocks, keeping you in complete control of your content.
However, the custom CSS options are locked for free users. It offers more than 40 beautiful templates for free. But there are no options to filter them from pro templates.
You can also use block templates to build your page block by block. This is one of the Best Page Builder Plugin For WordPress website.
2. Divi
Divi by elegant themes has a unique interface, and it has a variety of floating buttons and popups. But, while several people will be big fans of Divi it will take some to get used to it.
It has a wide range of templates you can choose from, to be precise it has 316 prebuild templates in 41 different layout packs. Your clients will appreciate this area of design options.
It also has some additional options like A/B testing, a fast Divi theme, and of course an option to create your theme.
A possible disadvantage is a cost because the Divi builder comes as part of an $89 elegant themes membership which is quite a lot if you compare it to other builders.
Divi is the best option for a single website designer and not the agency that would rather have a wider range of features and services at lower prices.
Also check: Top 10 Best Free Themes For WordPress Blog
3. Beaver Builder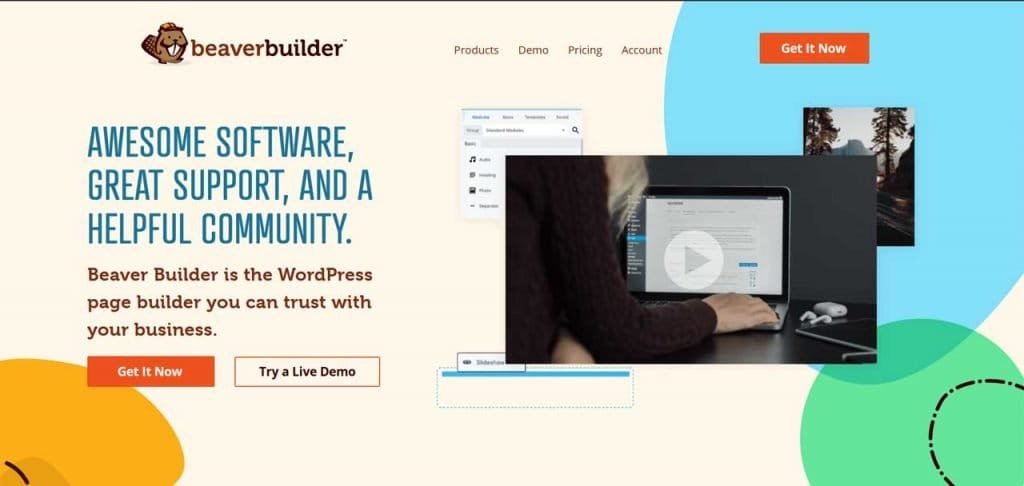 Beaver Builder is a popular WordPress page builder with over 300K installations and a perfect 5-star rating on WordPress. Its interface is quite flexible. So you can either work with the whole screen using the popup content panel.
You can pin it on either side of the screen. Moreover, the interface is quite clean and easy to use.
Compared to other page builders on our list, beaver builder offers very few blocks in the page builder as most of them are reserved for the paid version.
However, these elements are good enough to create simple pages. Though the styling feels a little unintuitive, you get many options for all the blocks. For example, the text box styling options include text formatting, spacing, shadows, margins, and even animations.
Currently, there are only three templates for users who have downloaded the free version.
4. Brizy
Brizy is a relatively new page builder that has managed to make a name for itself. Thanks to its unique approach.
The interface features a collapsable sidebar where you can add blocks, reorder the content, and set the styling. The large area on the right is for page building and ensures that what you see is what you get. It has a good collection of blocks along with some cool extras like countdown timers.
Brizy lets you set a global text and color style that can significantly speed up your page-building process. On the block level, you can access the styling options using popups that appear when you hover above them.
It offers some of the best block templates compared to any other page builder. You can even switch between light and dark styles for the templates.
There are plenty of block templates you can use. There are only about few full-page templates for free use. It is one of the best wordpress plugin for landing page.
5. Gutenberg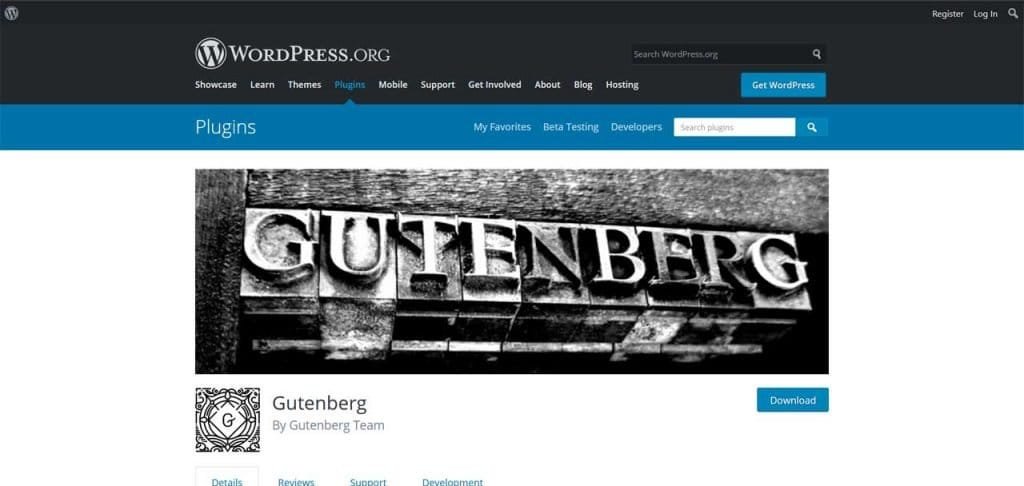 Launched in 2018, Gutenberg is a WordPress block-based blog and page editor. You can learn to use it very easily and quickly.
However, this page editor works on the backend so the final result may look a bit different. Gutenberg offers plenty of text, media, design widgets, and embedding blocks by default. You can also use other plugins to expand the list more.
When it comes to styling options, Gutenberg tries to get away with the bare minimum. For example, you can customize a text block's font size, line height, color, but you cant edit its font as it can only be changed by the theme.
The Gutenberg does offer basic styling options that are good for creating simple pages. It offers some simple but useful patterns for those who are looking for templates.
They may not be a one-shop stop, but they can help you get started.
Conclusion
If you are looking to create something unique, complex and if you are ready to spend over $100 on it then Divi is the best choice for you.
And if you want to go with a more affordable but not less impressive one, then we surely advise using Elementor page builder.