How To Do Keyword Research for Affiliate Marketing in 2023
If you are wondering How to do Keyword Research for Affiliate Marketing then you're at the right place.
In this post, we will guide you throughout with how to do Keyword Research to find the perfect keyword.
Affiliate Marketing is the best way to generate passive income online. But creating and launching an affiliate website is just the start, the next important thing is to promote and upscale it.
Keyword research is a very crucial step in affiliate marketing and blogging. Putting thousands of dollars in hosting, web design, and other things won't help unless you find the right keywords to target on your affiliate blog.
[Advertising Disclosure: Missionearn.com makes profits when our readers make a purchase from our affiliate links. Also, as an Amazon Associate, we earn from qualifying purchases.]
What is keyword research?
Keyword research is the process by which you research keywords/phrases people enter into search engines such as Google or Bing.
Keyword research is the first step and most important one, in optimizing your website for certain keywords.
People who search for something online are most probably looking for products or information that solve their problems.
Finding and including those search terms in your content allows users to consume it to get relevant answers or recommendations for products.
Why Keyword Research Is Important?
Keyword research for Affiliate marketing is an important step as it allows your audiences to organically find your content when they need it the most.
The efforts you put into affiliate marketing, website building, blogging, and promotions will be in vain if you're not visible, keyword research ensures that visibility.
If you want to rank in the SERPs, keyword research is very important. If not done correctly, it will be nearly impossible to get rankings.
If you want to rank an affiliate site, generate leads and sales, drive organic search traffic, then you must find low competition profitable keywords.
You're at the right place to know all about 'how to do keyword research for affiliate marketing.
Let's get started.
How to Find a Profitable Niche for Affiliate Blog?
Beginners who want to be an affiliate marketers often make mistakes i.e., purchasing the domain, hosting, theme, and many other things even before picking a niche.
The first step to keyword research is to select a niche topic. Your niche is the type of product you're going to promote, sticking to your niche is important in order to gain expertise on it and become a trusted person to recommend such products.
Switching niches until you find a money-making affiliate niche isn't the right approach to do business.
It is a time-consuming process that may lead to disappointment, and some of you may give up after some time.
After you've found your niche product, and have placed deals with companies looking for affiliate marketers, only then you're ready to begin keyword research for the affiliate marketing process.
Therefore you should always be careful with finding a profitable niche for affiliate marketing.
Here is the step-by-step process to find the affiliate marketing niches that make money.
Find a common topic you are interested in.
Check whether the topic has passive income potential.
Go through the demand and supply relationship. If visitors are actively looking for products or services and willing to spend money, you probably can pick that niche.
Check for ads and their frequency.
Understand the competition, the time-frame, and the investment needed to get a positive ROI.
Niches such as blog niches are time-sensitive. You should be able to convert these niches into a profit-making machine. Pick seasonal niches only if you have resources and a solid plan to make them work for you, eg. Diwali Shopping, Weekend Sale, Black Friday, etc.
How To Research Keywords
Once you are ready with your niche, you need to turn your niche topics into keywords.
You can do this by using a keyword research tool known as Google Keyword Planner.
To start, go to Google AdWords and create an account.
Click on Tools & Settings in the main menu and then on the Keyword Planner tab:
After that, you will get two options "Discover New Keywords" and "Get Search Volume and Forecasts".

Click on the Discover New Keywords on the left and enter one of the main niche topics of your article/blog.
Once you enter your niche, click on "Get Results"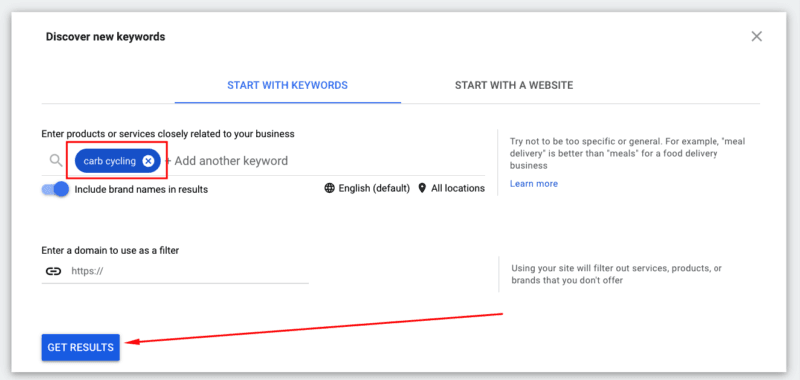 In the next screen, Google will display the search volume of the keywords/niche that is searched monthly.
By scrolling down, you will see all the keywords around that niche topic along with their monthly search volume.
By using this technique you will get a vast range of different keywords you can target.
You'll want to go after keywords with a search volume of 100-1k and/or 0-100.
Keywords that have 10k-100k search volumes are very competitive and it will be difficult to rank your article.
Long-Tail Keywords
Now we will discuss the often-overlooked element of SEO keyword research: the long-tail keyword.
A long-tail keyword is a long, specific search query that visitors are more likely to use when they're closer to a point-of-purchase. It usually consists of three to five words.
Due to its typical nature and quite specific in length, long-tail keywords tend to be low volume, i.e., that they are less searched for than their short-tail keyword counterparts.
Now if you are just starting in the world of SEO, you might be thinking "Why to waste time targeting keywords that hardly anyone searches?"
It's not a waste of time, rather here are the reasons "why you should target long-tail keywords"
Long-tail keywords are easier to rank for because they usually enjoy less competition.
Long-tail keywords already include your headwords (keywords)
Better targeted traffic, Your affiliate site is more likely to rank in search engine results pages (SERPs)
Users are far more likely to convert, i.e., higher conversion rates.
Focusing on long-tail keywords rather than short-tail keywords can be more effective because by their very nature they are more targeted even though they are searched by a much smaller number of people.
You're more likely to gain a purchase from someone searching for a more specific search query for example "denim shirt for men" than someone who is exploring a more general 1-2 word phrase like "shirt".
In fact, according to a study, conversion rates for long-tail keyword terms are 2.5x higher than for short-tail "head terms."
It is not even surprising that high-volume search terms only make up 30% of all queries whereas long-tail keywords account for 70% of the world's search volume.
Short tail vs. long-tail Keywords in Affiliate Marketing
If you are wondering which way to go 'long-tail keywords' or 'short-tail keywords' then the answer is both seem to be important for SEO and need to be included in your strategy
So first, know the difference between them.
Short-tail keywords are general search queries consisting of one or two words whereas Long-tail keywords are more specific, longer keyword phrases containing three and more words.
Short tail keywords are very generic in nature, they describe only a certain category of knowledge, so they attract high search volumes. Whereas long-tail keywords find very specific information.
Short-tail keywords have high-volume hence, poorly targeted traffic, Long-tail keywords have low-volume and better-targeted traffic.
Short-tail keywords start research with the broadest information and narrow the search down later (the user is not sure what he/she is looking for at the beginning). Whereas, long-tail keywords locate content that helps with achieving a specific goal (find a product, etc.)
How do you find long-tail keywords?
Before you start finding long-tail keywords, you should do a little brainstorming so that you get to know your target audience and think about what they are likely to search for.
Let's consider a long-tail keyword that says "short denim jacket women". You need to know who is likely searching for this term and what they want from such a jacket (aside from the obvious answer of women looking for short jackets). Going through social media hashtags can be a good way of finding this out.
There are a few keyword tools you can use. Keep in mind that, it would be remiss not to take advantage of Google Search.
You can have an idea about what people tend to search for by viewing the search engine autocomplete function in the search bar and the "related search" section at the bottom of the results page.
Don't forget to check out your competitors. Examining the kind of content your competitors are covering and the keywords they're targeting will take you a step forward in coming up with long-tail keywords.
Buzzsumo is a great resource for finding the main players in your niche, as well as seeing the kind of content that resonates the most in that niche.
Keyword tools for finding long-tail keywords
To boost the effectiveness of your keyword research, a whole lot of free and paid keyword tools are available.
These tools give keyword suggestions and specifics about search volumes and competitions. Using these tools will take away the guesswork of using Google Search.
Here are some selected tools.
Answer the Public
Answer The Public is a great free tool for coming up with potential long-tail keywords.
It takes the auto-suggest functions of Google and other search engines to the next level by creating simple, yet extensive visualizations of the data.
Besides providing great potential long-tail keywords it also gives ideas for filling out your content calendar without much effort.
Even if you find the data mined confusing, that's okay because they offer a free, short email course to help you get started and learn how to make the most of the tool.
Ubersuggest
Ubersuggest is another keyword tool for providing long-tail keywords. It generates keyword suggestions based on what's working for your competitors and what people are typing into Google.
Search for your keyword and it will tell you how hard it is to rank for, its search volume, cost per click, and SEO difficulty.
Wordtracker
Wordtracker is another great keyword research tool. It provides insights on competitors' keywords, related terms, competition levels, and also provides information from multiple sources, such as Google, Amazon, and Youtube.
You can get 100 keywords results, with a free account. The paid options will provide up to 10,000 results. Its price starts from $27 per month.
KW Finder
KW Finder is a keyword tool to help you find profitable, long-tail keywords that you can easily rank for. This tool helps you find and manage niche keywords while filtering out the least profitable keywords.
KW Finder also has other handy features. It comes as part of an SEO tools package from Mangools, with pricing starting from $29.90 per month.
SEMRush
SEMRush is one of the most talked-about tools for SEO (and many of your other digital marketing needs). It is a great keyword research tool and it will be remiss not to talk about this tool.
It offers a range of helpful features like technical SEO audits and competitive intelligence. Its plans start from $99.95 per month.
Longtail Pro
As the name suggests, Longtail Pro is a keyword tool designed specifically for finding less competitive long-tail keywords.
It has a keyword rank tracker, it gives users keyword suggestions and tells them what keywords competitors are using. Its plans start from around $30 per month.
Keyword tools for finding long-tail keywords
Filtering the keyword data i.e., discarding the unwanted keywords is an important step because in-depth keyword analysis will give a big list of keywords to target on your affiliate site.
First of all, remove keywords with extreme competition and keywords that aren't worth your efforts. You can also exclude some non-commercial keywords to save bandwidth.
If you are not displaying ads on your affiliate site, remove those keywords from your list or build a funnel to convert that traffic into leads and sales.
For example, visitors are unlikely to make any purchase if he is looking for a nulled theme, hence, targeting this keyword may not generate any direct sale.
However, you can write about the disadvantages of nulled themes such as the possibility of negative SEO, malware insertion, slow loading time, hacking, and revenue theft to convert the particular visitor into an affiliate sale.
Finally, create groups of relevant keywords and assign these groups to different posts. You can use spreadsheets or create mind maps for better organization of the final keywords.
Conclusion
Doing proper keyword research for affiliate marketing can be time-taking. But, it's much easier to do the research first, than it is to target a keyword you have no hope for.
Keyword research is a serious business and you should never rush this process. It ultimately determines whether or not the expensive time you spend blogging will pay off.
High-quality content, conversion-focused site structure, and the right promotion strategies will help you achieve the potential of keywords.
Popular Posts