How to Sell on Etsy and Make Money in 2022
Are you looking for a guide on How to Sell on Etsy and Make Money? While there are plenty of online marketplaces when it comes to selling handmade goods, antique pieces, and arts and crafts, Etsy corners the market.
We'll show you how to get started in this guide plus some tips for selling products once your shop is up and running.
[Advertising Disclosure: Missionearn.com makes profits when our readers make a purchase from our affiliate links. Also, as an Amazon Associate, we earn from qualifying purchases.]
How to Sell on Etsy and Make Money in 2022
What is Etsy?
Etsy is a marketplace where millions of people around the world connect to make, sell and buy unique goods. It is an e-commerce platform that specializes in the buying and selling of artistic goods, craft supplies, and vintage items difficult to find in a traditional online store.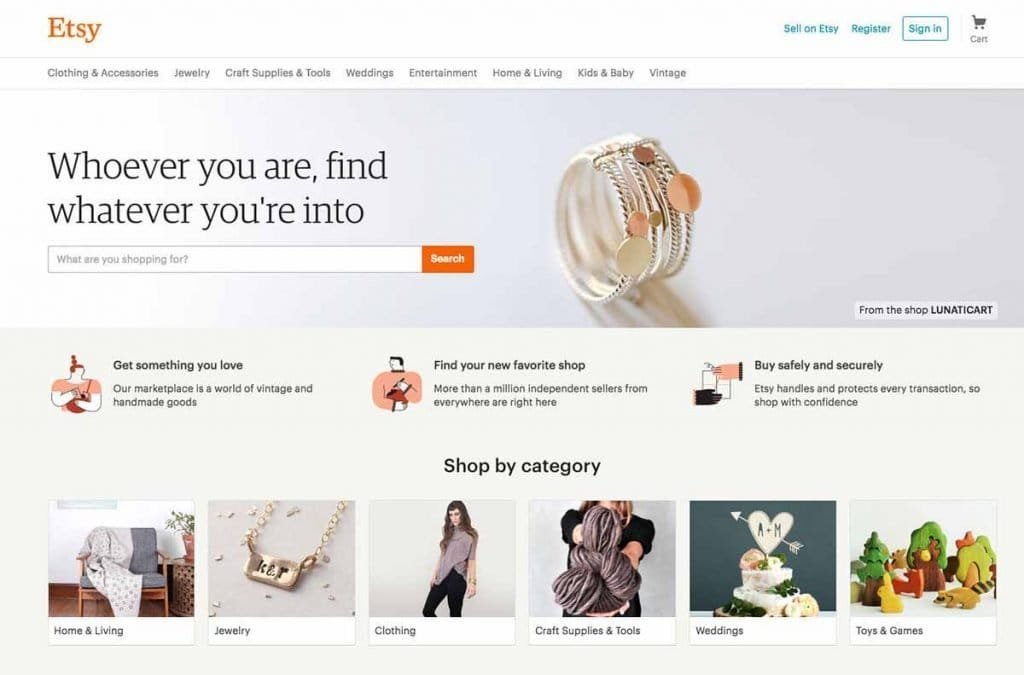 It is easy to set up a shop on Etsy. Create an Etsy account (if you don't already have one), set your shop location and currency, choose a shop name, create a listing, set a payment method (how you want to be paid), and finally set a billing method (how you want to pay your Etsy fees).
Why sell on Etsy?
We have listed down a few important reasons why you should sell on Etsy
1. Personalized Storefront
Etsy offers a customized storefront, a sort of online store parked at Etsy. It enables aspiring merchants to list all of their items in one place, brands their shop – put a logo, personalized taglines, and create their policies.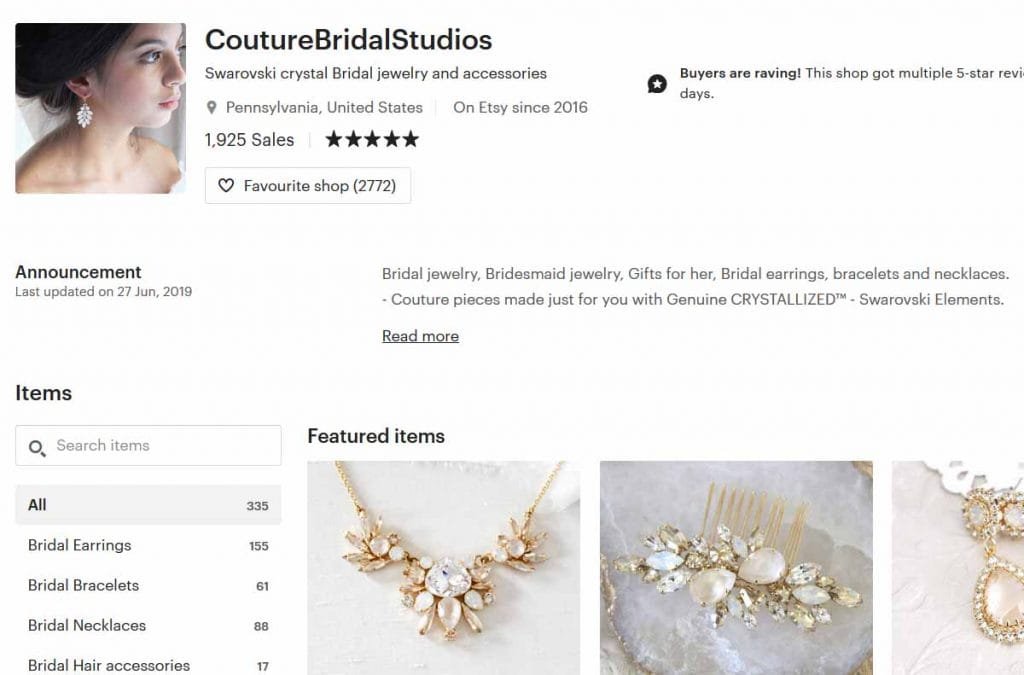 2. Huge Audience
Etsy already has a large, built-in audience, which is why many sellers start their business here. Etsy has an exceptional 33+ million active community, and among them, 40% are repeat buyers.
It is a testimony to the customer's love for Etsy. These are great metrics that compel merchants to open their Etsy store and start selling as soon as possible.
3. Engage Customers
Another flexibility that Etsy offers to 3rd party sellers is to engage their visitors. It allows 3rd party sellers to leave their social media handles, drop coupons, and collect emails to enable them to engage with their targeted audiences personally.
If you're selling on Etsy, you'll get more exposure than you would on your website.
4. Own Shipping Policies
Etsy sellers are in charge of their listings. It allows sellers to devise shipping, return, and exchange-related policies.
Since the majority of the sellers are part-time, therefore, they can't offer competitive shipping or refund policies like the e-commerce behemoths, and Etsy completely understands it. It lets them decide their policies.
Benefits of Selling on Etsy?
Etsy is an affordable option compared to the cost of setting up a website with a shopping cart and having a vendor account, which often charges transaction fees.
However, as Etsy is a well-known marketplace for handmade products, it has a ready-made buyers' market.
You'll be marching under the well-known Etsy brand banner instead of trying to make a name for yourself on your own.
An Etsy shop is a perfect way of making some cash from the side. Statistics indicate that most shop owners on the web have other key income streams and an online store on the side as a way to get some extra money.
What can you sell on Etsy?
1. Handmade Items
Owners of Etsy shops are licensed to sell handmade items such as jewelry, fine art, clothes, leather goods, etc. The handmade specification doesn't mean you have to make every aspect of your product yourself.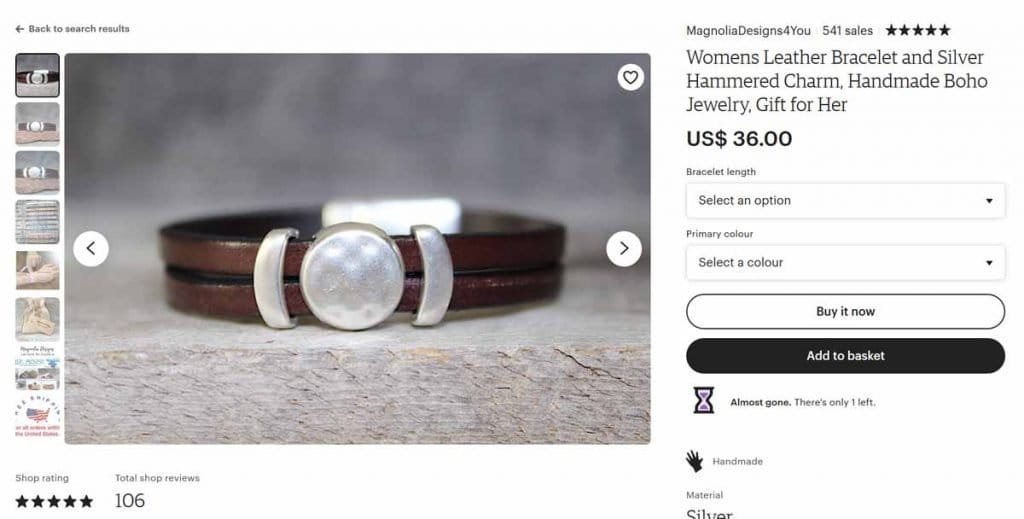 You can add non-handmade components, and you can have support from others. You can even have other people manufacture your products.
2. Craft Supplies
You can also sell Crafts on Etsy. You can't sell professionally made products that are "ready for use," but you can sell ingredients, supplies, or equipment that someone wants to create a finished product.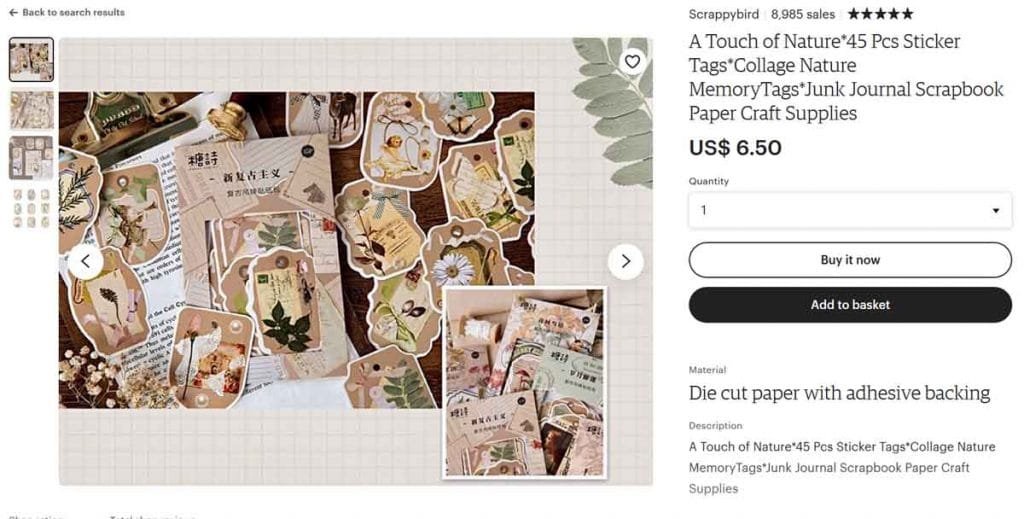 3. Vintage Items
Etsy lets you sell ready-to-use or imported pieces, but only if those pieces are vintage. Etsy describes a vintage item as anything 20 years old or more. The antique pieces should not be handmade.
Vintage products can include nearly everything including shoes, office supplies, and video games.
How do I create an Etsy store?
You will have to follow the steps listed below to create a store on Etsy.
1. Register
In order to open a shop online, you must first become a registered site member. Once you have an Etsy account, you're qualified to open a shop.
2. Create your Shop
Etsy will guide you through the online shop creation process. After clicking on the "Open a Shop" button found at the bottom of the Etsy homepage, you will be asked to configure your preferences for language and currency.
It is an important step to do since Etsy has buyers and sellers from all over the world. Your Etsy listings would be more likely to meet potential customers in your target market by defining your language and venue.
3. Choose a name
You'll then need to pick your Etsy shop name. Since the platform involves the use of a unique name by each shop owner, it is normal for sellers to find that their first option is not available.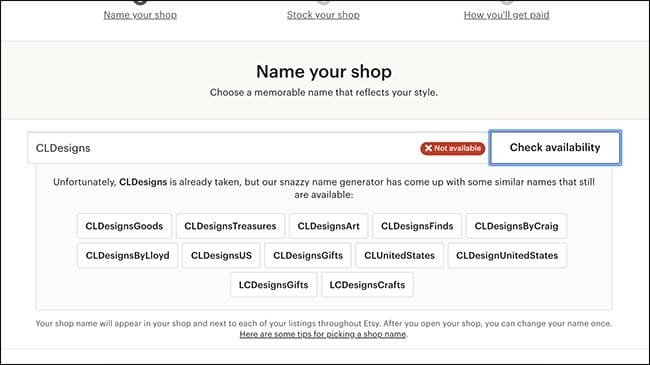 The aim is to choose a name that is appealing, memorable, and catchy to consumers, reflecting the specific style of products that you plan to sell.
The name must have four to twenty characters with no spaces or special characters.
4. Start listing your Items
After your shop name has been approved, follow these steps to set up your items listings:
Add Photos
Etsy advises sellers to have a minimum of five photos for each item, to be taken from different angles so buyers can have a proper idea of how your product looks.
The picture should be of high quality with a nice background.
Adjust Thumbnail
Thumbnails are the first pictures that a buyer sees while they're looking for a product.
These determine your shop's look and feel, so make sure it's consistent and matches your brand.
Complete your Listing Information
Your product name should have a title Too, using the available "13 tags" for each product. Buyers are searching for keyword-based products so make sure that these keywords suit what's in your name.
It's also necessary to take the time to offer detailed and interesting product descriptions. This is your chance to capture the eye of a shopper, and show him/her what is special about your product.
The summary is also the location for describing the size of the object, the materials used and any exciting features it includes.
You can also tag your item with keywords and sentences to make it appear in the Etsy search engine easier.
5. Set the Right Price
While you would assume that only customers will have to pay on the website for items, there are quite a few seller fees associated with creating your shop.
As such, understanding how big a cut Etsy can make from selling your products and strategically pricing your products to make a profit is crucial. The most common fees Etsy charges are:
Listing Fees
To post your products on the site, Etsy charges you a 20 cents listing fee for each item.
The product listing fee allows you to have your product on the site for four months with the option to auto-renew the listing for another 20 cents if your item doesn't sell within that time frame.
Transaction Fees
These are essentially commission payments made to Etsy for the use of their online marketplace.
Currently, Etsy charges 5% of the total item price (recently up from 3.5%), including any shipping costs to the customer.
Etsy Payment Processing Fees
In addition to the transaction fee, if customers check out with a credit card using the direct checkout option through the Etsy store (as opposed to paying through a third party payment processor like PayPal), there is another associated fee of 3% of the item's total price, plus 25 cents.
PayPal Fees
If buyers choose to purchase your items via PayPal, you will pay 2.9% of the value of that transaction, plus a flat fee of 30 cents per transaction.
Shipping Fees
Etsy charges a freight label fee for USPS, FedEx, and Canada Post shipping labels generated directly via Etsy.
These fees depend on the source and destination of the parcel and are necessary to keep in mind when fixing prices and preparing shipping policies.
Some of the payment and shipping policies that sellers should express on their shops' homepages include:
Accepted payment forms
Shipping times and costs
Refund and exchange policies
Custom and duty fees for international purchases
Advertising Fees
If you'd like to increase your visibility on the site, you can pay Etsy an optional, additional fee to have your items featured as promoted listings for certain keywords.
In particular, you should take into consideration all related costs associated with making those portraits, including materials, the hours of labor you put into the painting, your expenses, and the profit you want.
A good formula to ensure you do, indeed, make a profit is:
Craft Supplies + Labor + Expenses + Profit = Retail price
6. Enter Inventory Quantity and Price
Add the price for each item and make sure you factor all costs into your sale price. Include the quantity in stock and also if there are product variants such as size, color, and material.
7. Set the Shipping Fee
This is where you include shipping fee, country of origin, processing time, weight and size. You can always update this information later if needed.
8. Preview your Etsy Listings
Look at the shop to see if there are any changes to make. Click 'Finish' and you're all done adding your first product.
Marketing your Store
Opening your Etsy shop does not guarantee sales. Your job is to determine who specifically you are selling to and where you can market to get the buyer's attention.
Before you begin selling your product, you must know your target market. Ask yourself these questions when finding your niche market:
Who will buy my product?
What are their needs?
What are their problems?
1. On Etsy
Etsy's greatest advantage is that they have their own Etsy Shoppers following.
In other words, Etsy is already shopping for more than 20 million customers-even if they don't know about your specific store.
It's a bit like having a stall on the market of a famous farmer – customers are going to the destination. If they're there you just have to get their attention. You have a few options on Etsy.
2. Etsy Search
Etsy searches allow you to get traffic to your store. Search engine Etsy is somewhat different from general web search engines such as Google or Bing. Etsy has its data and algorithms – they've addressed how they handle searching.
So providing concise, memorable product names with detailed and readable explanations is the standard rule. When you were a client, it means making listings that you would like to purchase.
3. Etsy Ads
If you're new or have a decent profit margin – you can always pay for Etsy search results to appear. Keep in mind that paid listings will carry increased traffic & sales benefits.
Next, you get consumer data and feedback. This is crucial in the beginning. You will use it to boost your goods, your listings, and your marketing overall. Second, you get feedback in Etsy's search engine can help.
4. Advertising on Facebook
Facebook ads can be an extremely cost-effective way to reach potential clients where they spend a significant amount of time.
Facebook combined with the powerful visual design of Facebook advertising, makes a great investment for craft companies, including those with small marketing budgets, and it works no matter how you sell/distribute your crafts.
5. Build Instagram and Pinterest
Instagram is the ideal place to display your beautiful creations and start creating dedicated fans (and eventually customers) and loyal followers.
Even if you decide against ads on Instagram, it is probably the best available social media image-sharing software and its integration with Facebook makes it an ideal advertising platform.
Equally relevant for the designers is Pinterest. Because handcrafted products are such a visual company, it makes sense not only to maintain an active presence on Pinterest but also to allow visitors to pinpoint your photos.
There are literally thousands of handmade crafts Pinterest boards all of which are ways to get your name out there.
Conclusion
Now that you know How to Sell on Etsy and Make Money, Etsy has over 2 million active sellers on the site. In order to stand out from the crowd — and finally sell your perfectly priced goods — you'll need to develop a few complementary skills relating to marketing, branding, and customer service. Some of the best ways to make sure your store is a success are:
Practice your photography
Brand your business
Focus on customers
Get social in real life
Strategically use social media