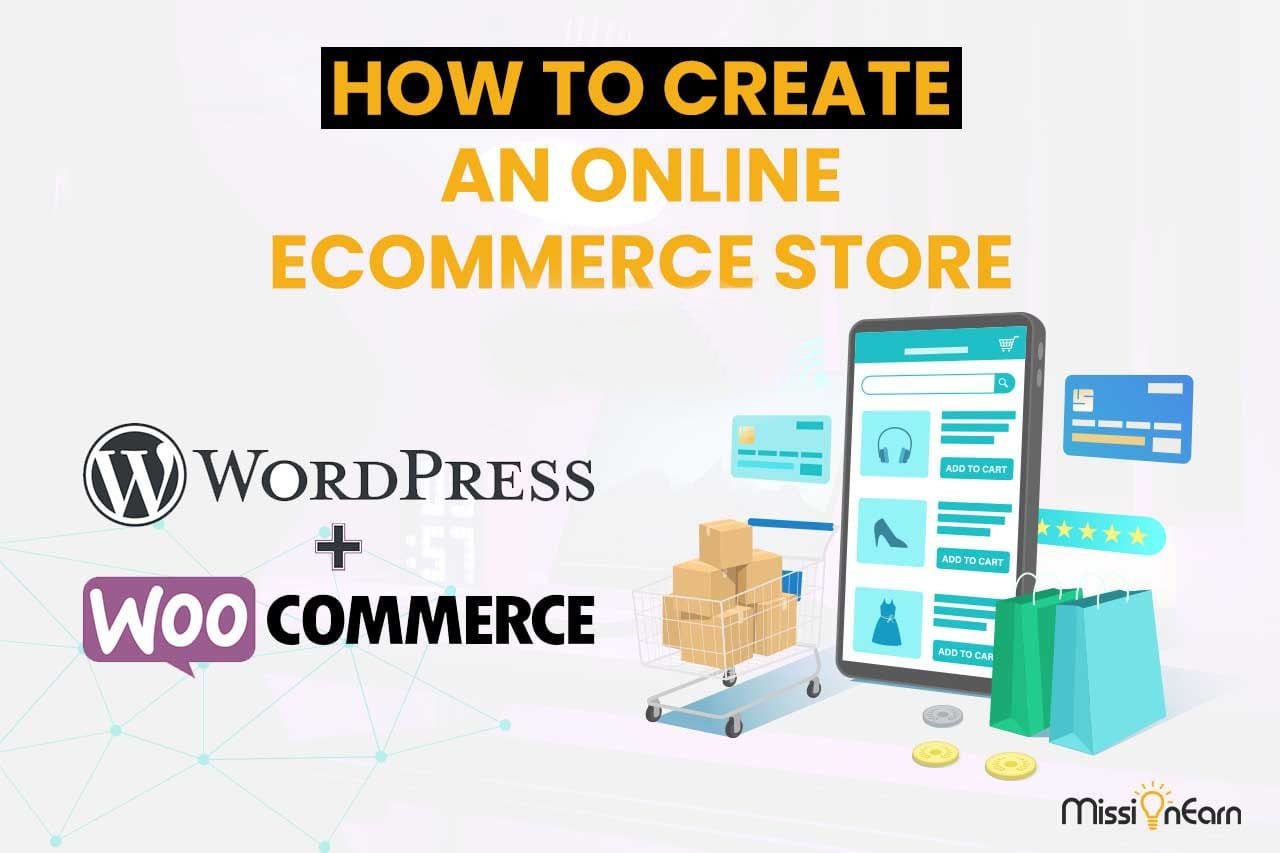 How to Create an Online eCommerce Store in 2022 (WordPress + WooCommerce)
Do you want to How to Create an Online eCommerce Store in 2022? We have come up with a few steps to set up a WooCommerce + WordPress online eCommerce store.
In this article, we will walk you through all the steps to set up a WooCommerce + WordPress online eCommerce store where you can list and sell physical as well as digital products.
If you are on this page, we are sure that you have already got a brilliant idea, but you are not sure how to build your store.
[Advertising Disclosure: Missionearn.com makes profits when our readers make a purchase from our affiliate links. Also, as an Amazon Associate, we earn from qualifying purchases.]
How to Create an Online eCommerce Store in 2022
1. What are all Available Options to start?
You will find many websites and other available options to start selling your products online.
The best option is to set up your website, but let's look at all other available options.
Amazon, eBay, Etsy, and other 3rd Party Services
Amazon, Etsy, and eBay are large platforms, and there are thousands of small businesses and stores located there.

The best thing about these third-party sites is you can sign up and start selling in minutes. They set up your shop for you. They handle the money and payment gateways to make the whole process easy.
Customers are already familiar with these platforms so there's already a sense of trust and security here.
You will also find a built-in audience. Etsy has millions of customers looking for handmade crafts and personal items. If you make unique products, there are already lots of customers willing to buy.
But, the trouble is you can never build an empire on someone else's site. Third-party service always puts their branding and identity ahead of your store and products.
The worst part is, if the Third-party service decides to dismiss your store, your entire business is lost. That's a piece of bad news if you're looking for a reliable and steady income.
It is always better to create an Online eCommerce Store of your own to build a unique identity.
Social media stores (Instagram and Facebook)
Another option would be setting up a Facebook or Instagram store. It makes it easier to sell products to your social following.
But it also has some limitations if you want to collect email addresses, connect with your customers, and build a unique identity, you need your own space and website.
Creating your very own store
How to Create an Online eCommerce Store in 2021? If you are looking for a place to call your own, you need to create your own storefront.
There are ways to create an Online eCommerce Store, we will walk you through the process.
Using Shopify to set up an online shop
The best alternative to WordPress + WooCommerce is creating a store using Shopify.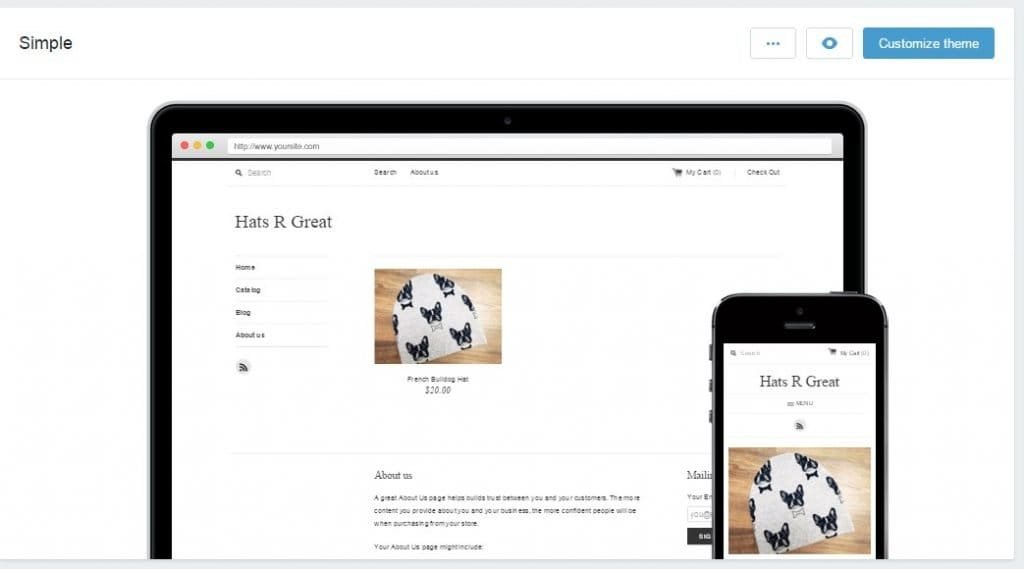 Shopify is a simple software that will create your online store for you in just minutes. It is very easy to use and designed specifically for eCommerce.
They also have 100s of Shopify templates here to help you design the site.
The only real downside with Shopify is the cost. There's a monthly fee (starting from $29 /mo) depending on the Shopify plan you choose.
It may seem expensive to you if you are starting your business from scratch on a small scale.
If you have got big plans, don't let that put you off. Shopify is perfect if you have got a product with a high-profit margin.
Free Online Store (WordPress + WooCommerce)
Creating a website is now easier than ever. We are going to create an Online eCommerce Store using WordPress. It is the most famous website building platform around the world.
WooCommerce is the technical toolkit that makes your shop work. All you have to do is install this plugin on your WordPress site.
WooCommerce handles all the tricky things like payment mechanisms, products, managing stocks, customer data, and shipping.
WordPress and WooCommerce are free to use, you will just need a web host and a domain name to install it.
Let's get on with setting up WordPress + WooCommerce Store.
2. Setting up WordPress + WooCommerce Store (Recommended)
To create an online store or any type of website, you will need two things:
Domain Name
A Domain Name is an address that points to your website. It is something like yourstore.com.
There are numerous domain registrars out there like GoDaddy and Namecheap, but we like Namecheap because they are an awesome registrar and they'll even get you free WhoisGuard. This helps keep your identity secret, in case you want to blog anonymously.
Choose your domain name very carefully. Hopefully, you have already got a business name all picked out and ready to go.
Web Hosting
Web Hosting is a remote computer that stores your website files and then serves it to whoever wants to visit it.
There are plenty of web hosting service providers around, but we recommend going for a dependable international web hosting brand, which is SiteGround, to host your blog. (MissionEarn is also hosted on Siteground)
There are many cheaper options available in the market but SiteGround has great uptime, dependable customer service, and insanely fast server response time.
The role of your web hosting is very crucial in making sure that your blog performs quickly and up to the mark so that you won't lose readers due to unnecessary slow loading time or server crashing issues.
3. Configuring WordPress & WooCommerce
Installing WordPress
Once you have your web hosting and domain name ready, you will need to log in to the control panel to install WordPress. The 1-click installation in Siteground Hosting will get it done in no time.
Install WooCommerce Plugin (FREE)
To install WooCommerce Plugin start navigating to your WordPress Dashboard / Plugins / Add New. Once there, type "woo-commerce" in the search field. You'll see WooCommerce as the first search result:
Just click the "Install Now" button next to the plugin and "Activate" it.
Then you will see WooCommerce on-screen launch/setup wizard. You'll have to configure it before you start. To start, click "Let's Go!"
You will have to fill in all the necessary information like Store location, Shipping and Tax information, Payments, etc.
Adding Your First Product
You'll have to add some products to your store to make your store operational.
To add your products, go to your dashboard, then Products / Add Product:
It will take you to the WordPress content editing screen.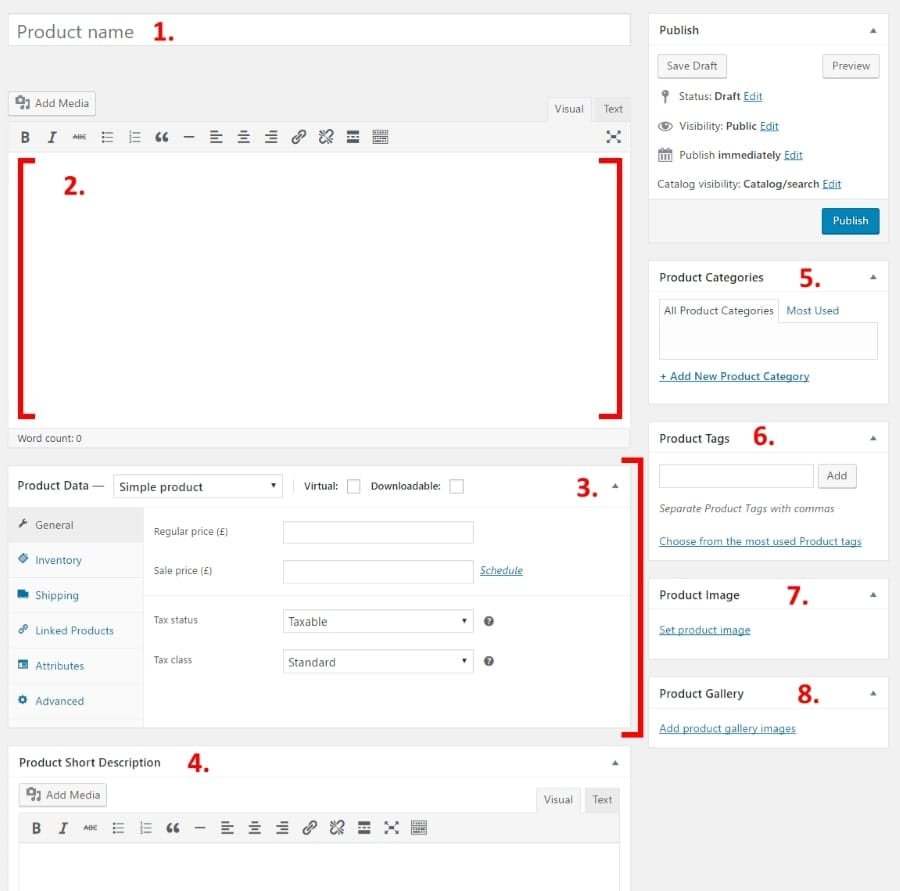 Add your Product name.
Add product description.
In this section, you will have to add product data like inventory, shipping, Linked Products, Attributes, Pricing, etc.
Add Short Description here, which will be displayed on the product page under the name.
You will have to add a product category, eg. "Shirts".
Product tags which will help you organize your database of products.
Add your main product image.
More additional product images to showcase.
Once you're done, click on the big Publish button – your first product will be added.
Designing your shop
The reason why we first covered how to add products to your store, before discussing the visual appearance of the entire thing.
Without any products, you wouldn't be able to see the individual pages of the store like how they actually look. You wouldn't be able to make sure that everything looks right.
WordPress is super easy to decorate and make your own. You can choose from hundreds of themes for free, or you can splash out on a premium theme on Elegant Themes.
Payment Gateway
You will need a payment gateway to complete your store and make it fully functional.
You can use Paypal or 2Checkout to integrate it with your store. These are the best payment gateways out there.
Sometimes customers prefer a simple credit card payment. You can handle this with Braintree. It is also a product of PayPal.
Now you are all set and your store is fully functional. You will need to drive customers to your store.
3. Marketing your Products to get Sales
Getting the first sale is always the trickiest part. We will share some tips with you to help you make that first sale.
The internet is full of powerful blogs, YouTube channels, and social media influencers. These people can get your product in front of a lot of consumers.
At the start, you can do a paid promotion on Instagram and Facebook. But, it is complicated to understand. So, you can hire a digital marketing expert.
You can approach influencers and blogs in your niche. They are always looking for cool products to share with their followers. You can reach out to them and ask for a sponsored promotion or on a barter system.
A free sample also might prove useful here 😉
4. Some Recommended Plugins for your Store
5. Conclusion
We hope this article has answered your question about How to Create an Online eCommerce Store in 2022?
Starting and creating an Online eCommerce Store is not as easy as it seems. It requires hard work, smart work, and patience. Trust the process and your product. Many people are doing it daily and earning loads of money. Follow your passions, start a successful business, ditch the day job and Be Your Own Boss.