Top 6 Best WooCommerce Multi Vendor Plugins [Guide]
Looking for Best WooCommerce Multi Vendor Plugins? If you are running a WooCommerce store, at some point in time you need to expand it because enthusiastic and ambitious entrepreneurs always want better options to build the best marketplace they can offer to their customers.
You can do this by diversifying the product line but there is an easier way to do so if you are not keen to add more products of your own.
You can allow multiple external vendors to operate their stores however you can always set a fixed commission for every sale of these vendors. The theme of such a marketplace is that customers can buy products from different vendors at a single marketplace.
If your store is based on WooCommerce, you have several options in the form of plugins to get this idea going. But the search for the best WooCommerce multi-vendor plugin can leave you confused with too many options.
To narrow things down we have chosen WordPress for this review because it is the best platform where you can start this marketplace.
This article focuses on the best 6 WooCommerce multi-vendor plugins for your WordPress eCommerce store.
[Advertising Disclosure: Missionearn.com makes profits when our readers make a purchase from our affiliate links. Also, as an Amazon Associate, we earn from qualifying purchases.]
1. Dokan Multivendor Marketplace
Dokan Multi-vendor is one of the best woocommerce multi vendor plugin powered by WooCommerce. Its intuitive interface and easy-to-use features will help you build a marketplace like Shopify, eBay, OLX, or Amazon in no time at all.
Dokan is one of a kind in the sense that it provides vendors with their personalized dashboard where they can find everything they need. The backend access stays with the admin only, it provides a successful implementation of bringing WooCommerce capabilities to the frontend.
Moreover, Dokan is one of the easiest ways to sell different types of products (digital, variable, physical) and earn commissions faster. It provides detailed store insights by generating earnings reports for both admin and sellers.
Dokan allows multiple vendors to sell the same products and enables them to easily withdraw their money from the front end. It supports several payment gateways and methods making it convenient for everybody.
It also allows you to set global, vendor-specific, product, or category-based commissions. You can set withdrawal limits, payment channels, etc. for vendors as per your wish.
2. WC Vendors Pro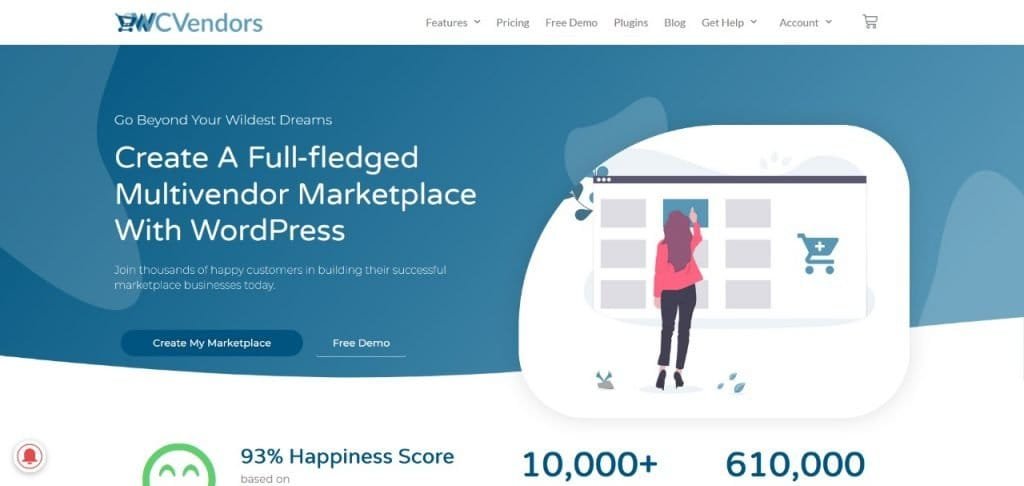 WC Vendors Pro is another new multi-vendor plugin for WooCommerce. It is very popular, used by over 10,000 people because of its clean and minimalistic design.
You can create a complete online marketplace using this WordPress plugin, you'll be able to sell physical, digital, and services through your marketplace and also create your marketplaces like Online Art gallery, Local Farmer's market, cooking classes, etc.
The best thing about WC Vendors is, it provides its core functionality for free and you can purchase extensions if you want front-end capabilities.
WC Vendors Pro empowers vendors to manage their stores through the front end without compromising on the admins' control. Each vendor gets their customizable storefront with a unique URL they can send to their customers.
You can set commission rates globally, per vendor or product, also, choose from percentage, fixed, fee, or combination method for paying commission.
It rewards vendors based on total sales, product sales, or product price, allowing them to choose from a flat rate or table rate for shipping. It sends automatic notifications to vendors for new orders.
3. YITH WooCommerce Multi-Vendor Plugin
YITH WooCommerce Multivendor is another plugin that allows you to create an amazing marketplace where other people can sell their products and get commissions for each sale quickly and easily.
Unlike WC vendors and Dokan Multi-vendors plugins, YITH WooCommerce specializes in downloadable products.
However, the plugin does not come with a Frontend dashboard but, they have another extension 'YITH Frontend Manager for WooCommerce'. This extension provides frontend functionalities, but it costs an additional $60 for one site.
With YITH WooCommerce Multi-vendors you can organize and focus on marketing campaigns while controlling your store by monitoring reviews, income, orders, etc.
It allows users to sell and edit their products create discount coupons for their products and manage shipping costs.
You have the option to choose automatic registration of vendors or go with the classic manual method. You can also limit the number of products for each vendor.
With YITH WooCommerce Multi-Vendor you can create a complex marketplace in an easy and fast way. It is one of the best woocommerce multi vendor marketplace plugin.
4. MultiVendorX
MultiVendorX for WooCommerce is a new plugin that lets you efficiently manage a large number of vendors in your store. 
You can create a complete online marketplace using this plugin and the best part is its core functionalities are available for free, you can purchase extensions if you want frontend capabilities.
WC Marketplace Allows multiple vendors to sell the same products providing customers a variety of options to choose from. Its user-friendly and feature-rich dashboard helps vendors to manage products, track orders, commissions, etc.
WC Marketplace Shoot a quick announcement or communicate with all vendors via a universal message board and use the manual or automatic option to payout commissions on an hourly, daily, monthly basis to your vendors.
You can control the review system by allowing only genuine reviews from buyers for a particular vendor. It comes with an in-built option for the admin to create multi-vendor registration forms and customize them as per vendor policies.
WC Marketplace provides the option to disburse vendor commission through PayPal and Stripe payment gateways. This plugin updates itself with the latest trends and offers new add-ons.
5. WooCommerce Product Vendors
WooCommerce Product Vendors plugin turns your eCommerce store into a multi-vendor marketplace, in no time, with multiple products and payment settings.
Just like WooCommerece, WooCommerce Product Vendors work on the backend of your site. It provides multi-vendor capabilities to your store, but only the admin can create or update products, making it difficult for the Admin.
However, to get frontend capabilities, you can install Frontend-addon for this plugin at an additional price.
WooCommerce Product Vendors gives you a platform to sell anything from physical, handmade, to digital products. It showcases vendor products for sale alongside your products.
WooCommerce Product Vendors incentivize new vendors or set vendor-specific commission rates to encourage new players to join, also allow vendors to manage their products, thereby, reducing your work and time.
It uses PayPal Payouts to delay commission payments if any physical product is returned. However, unlike WC Marketplace and Dokan Multi-vendors, WC Product Vendors don't allow multiple sellers to sell the same product.
6. Multi-vendor Marketplace for WooCommerce by Webkul
The Multivendor Marketplace for WooCommerce is a plugin that converts your store into a fully functional and robust marketplace.
It's pretty simple to set it up, you don't need any technical knowledge beforehand. If you're just starting, this plugin can be really useful for you.
Multi-vendor Marketplace for Woo-commerce allows sellers to add products, edit their profile through a seller panel, enable them to manage to ship, set up new shipping zones, and add shipping methods to reduce your work.
It provides vendors with an overview of the store – total orders, total sales, top customers, etc., and flexible commission management that can be applied on global as well as vendor levels.
Multi-vendor Marketplace for WooCommerce supports many language translations to make it convenient for customers and vendors to understand. The thing that stands out about the Multi-vendor marketplace for WooCommerce by Webkul is that the developers constantly keep adding the updates so you won't be missing out on anything.
Conclusion
There are several marketplace plugins out there but, we believe, the above-mentioned plugins are some of the best ones you could consider before building your eCommerce store.
I hope our list of the best Woo-commerce Marketplace plugins has brought you one step closer to creating your own marketplace.