Top 15 BEST Digital Marketing Tools To Grow Your Business in 2022
Are you Looking for the BEST Digital Marketing Tools To Grow Your Business? If you are running a web In this blog, we have compiled a list of the BEST and Useful Digital Marketing Tools. These tools will help you market and grow your websites, businesses, or brand.
[Advertising Disclosure: Missionearn.com makes profits when our readers make a purchase from our affiliate links. Also, as an Amazon Associate, we earn from qualifying purchases.]
What Are Digital Marketing Tools?
Digital marketing tools are platforms that make it easy to use digital marketing channels. They are designed to make digital marketing more comfortable to manage and boost performance.
We have compiled a comprehensive list of essential digital marketing tools.
Once you understand and implement them, you can sit back and enjoy the growth they will bring your business.
Top 15 BEST Digital Marketing Tools To Grow Your Business in 2023
1. Title Generator
Have you ever run out of ideas and want some inspiration for blog titles or youtube video titles? You can check out Title Generator which can generate 700 titles with one click.
You need to put your seed keyword in the search bar, and in just a matter of seconds, you can generate 700 titles and content ideas. These titles may not be perfect for what you need, but they will give you some ideas and inspiration.
2. PickFu
Have you ever had to test whether design A is better than design B? You can do it using PickFu. You can run a test and get instant access to the right people you want to draw and understand their opinions.
Moreover, the poll voters will leave an actual response and not just choose A or B. They will give you the feedback you can take on that will help you with better choices.
PickFu does come at a cost, however, if you sign-up you get a $50 credit you can use. It is a great tool if you want to do market research or validate a product idea for your business.
Also check: Top 10 Best Free Themes For WordPress Blog
3. Canva
Canva is so far the best tool to create graphics online. It will help you design your ebook covers, invitations, business cards, infographics, etc.
The great thing about Canva is that you won't even have to be a graphic designer to use Canva. It gives you access to thousands of premade templates. You can design and create just about anything for your brand or business.
4. Heading Analyzer
Headline Analyzer is a tool provided by coschedule.com. Simply enter the title or the headline you like to use for the article, blog post, youtube video, etc.
It gives you a headline score and SEO score. It gives you an idea of what things can be improved or optimized. You can also see some suggestions such as increasing the power words, emotional words, uncommon words, etc.
It also gives you more information and details such as Word Count, Character Count, type of headline, reading grade. It will help you get a fine-tuned headline.
5. Keyword Tool
Do you want to know some suggestions for what people are searching for on places like google or youtube? Keyword Tool will make your keyword research much easy.
It will give you some helpful suggestions once you enter your seed keyword and an idea of what type of articles or videos to create.
If you upgrade, you will get more data such as the Search Volume, Trend, Cost per click, and competition. You can also search specific sites such as youtube, bing, amazon, eBay, etc.
6. Keywords Everywhere
If you search on google for whatever keyword you want. Eg. "best water purifier" and you will see the results.
Keywords Everywhere will give you extra details and data of the particular result. You will get data such as organic traffic per month, the total keywords that URL ranks for, and so on.
It will provide a sidebar giving you trend data, SEO difficulty, Off-page difficulty, etc. It will also give you keywords based on your search term. and also long-tail keywords.
It is an extremely useful digital marketing tool to get extra information that google doesn't provide otherwise.
7. Remove.bg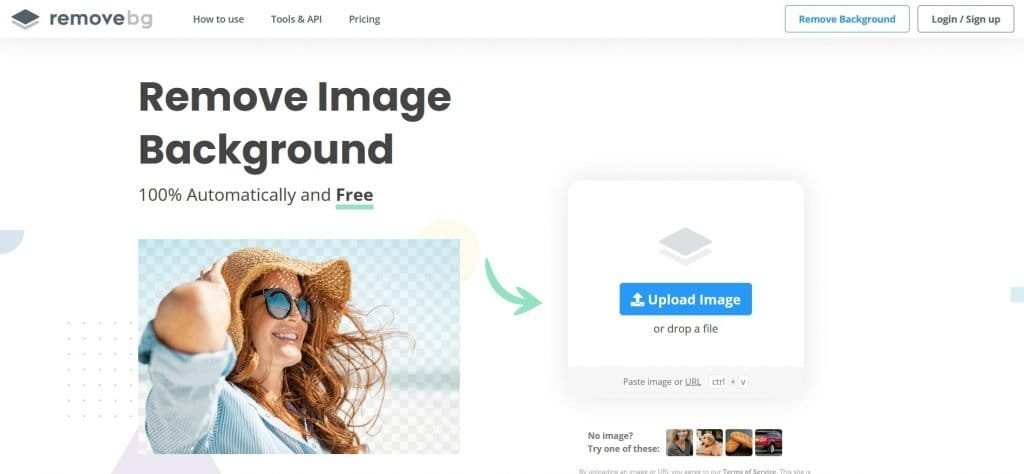 Remove.bg is the best tool if you want to remove the background from an image or photo. You will have to upload the Photo, and in just a matter of seconds, you will see that the Background has been removed.
You can then simply download if you want, if you want a high-quality version you can pay for it. You can also sign-up for one of the subscription plans or pay as you go.
8. Hotjar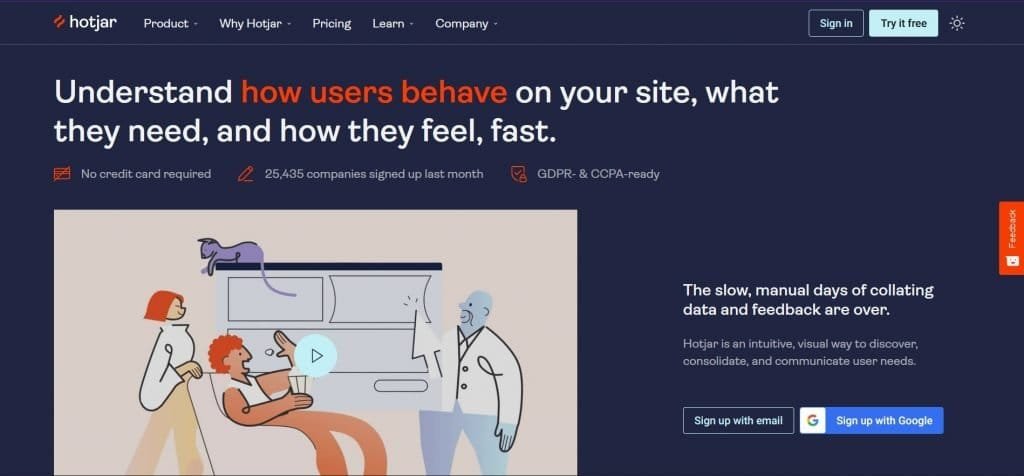 Hotjar allows you to visualize user behavior using its heat mapping tool. You can see and visualize what people are hovering over, clicking on, etc.
It also gives you heat-mapping data that you can use to make optimizations on your websites.
Another feature of Hotjar is that you can see a visitor's journey. So, once they land on your page where do they go after that. Once you find that, you can move particular sections or links, so that you can have a high conversation for your website or blog.
9. Flaticon
Do you want high-quality icons that you can use on your website or even youtube thumbnails? Check out Flaticon.
You will simply have to enter a search term, and you can browse through the hundreds of icons. I find an icon that you like, simply click it, and then you can download it.
10. Rebrandly
Rebrandly will help you shorten the long hand perhaps ugly links into shorter and brandable links.
You can just enter the destination URL (long URL) and then you can cloak it. You can use branded domain or default rebrandly link and enter the slash tag. Now, instead of the extremely long URL, you will get a short brandable URL that looks more professional.
You can also generate a QR code and save it, so anyone who uses and scans the QR code goes to the destined URL.
11. ConvertKit
ConvertKit helps you start your newsletter and build an email subscriber base. It allows you to create landing pages, email sign-up forms that can be integrated seamlessly with many other apps for email marketing.
It helps you run some automation or create some automation funnels in addition to sending out broadcast messages. The standard of convertkit is that you can signup for free and build up to 1000 subscribers until you need to upgrade.
It has easy to use landing page builder, so you will have to choose a template that you like and then start editing the landing page right there.
12. Mention
Mention is a great tool if you want to get alerts of any mentions of your brand or business. It can track and monitor over 1 billion sources across the web from press releases, articles, review sites, blogs, and forums.
Once you create an account and log in, you will get an interface that looks like an email inbox. You can add a new alert for anyone that mentions your business or brand.
This tool will help you consolidate all the alerts of brand mentions in one location.
13. Kamua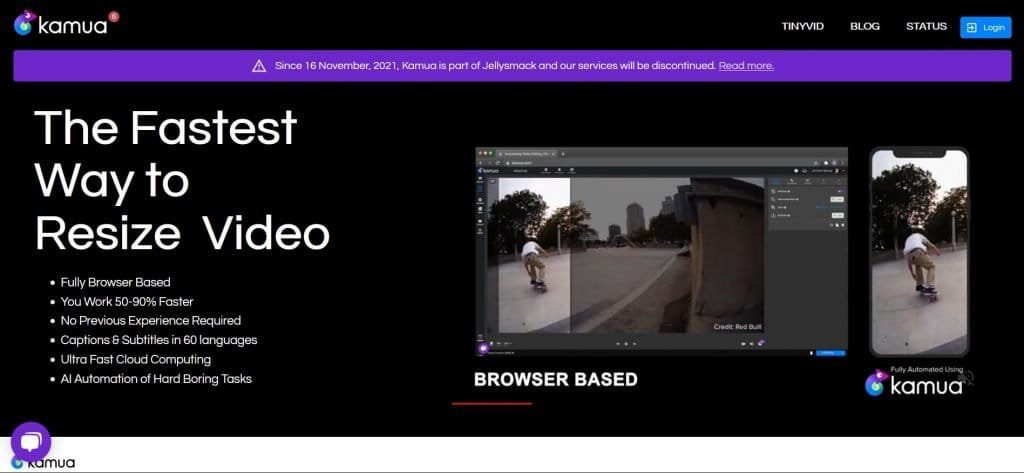 Kamua will let you resize your videos into other formats for different social media platforms. It not only resizes your videos but also focuses on that subject so that it only crops that area.
You can select portrait or square in the crop settings. You will have a lot of movement, and you want to make sure you crop only the subject. You can also enable the auto-crop option.
Once you're done, you can preview and save the file. If you are happy with the result you can now upload it as youtube shorts, TikTok videos, or Instagram reels.
14. Loom
Loom can be considered as the best tool in the Digital marketing tools list 2023. If you want to present and record simultaneously and have that little bubble or circle face cam at the corner of the screen.
This tool will allow you to do all of this, and you can do things like annotating. You can sign up for free, but you can create up to 5 mins of free video.
15. Inpaint
Have you ever wanted to remove particular objects on a photo well that's what Inpaint can be used for? It's free to use, and you don't need to install anything.
Get your photo-ready, drag and drop it and in the graphics editor, you can erase and remove the unwanted object.
Conclusion
That was just a list of the BEST Digital Marketing Tools To Grow Your Business. We hope you find the answers you need to build your business.
Digital marketing tools are an excellent way to improve each process within your organization. It is all about achieving more while utilizing fewer resources.