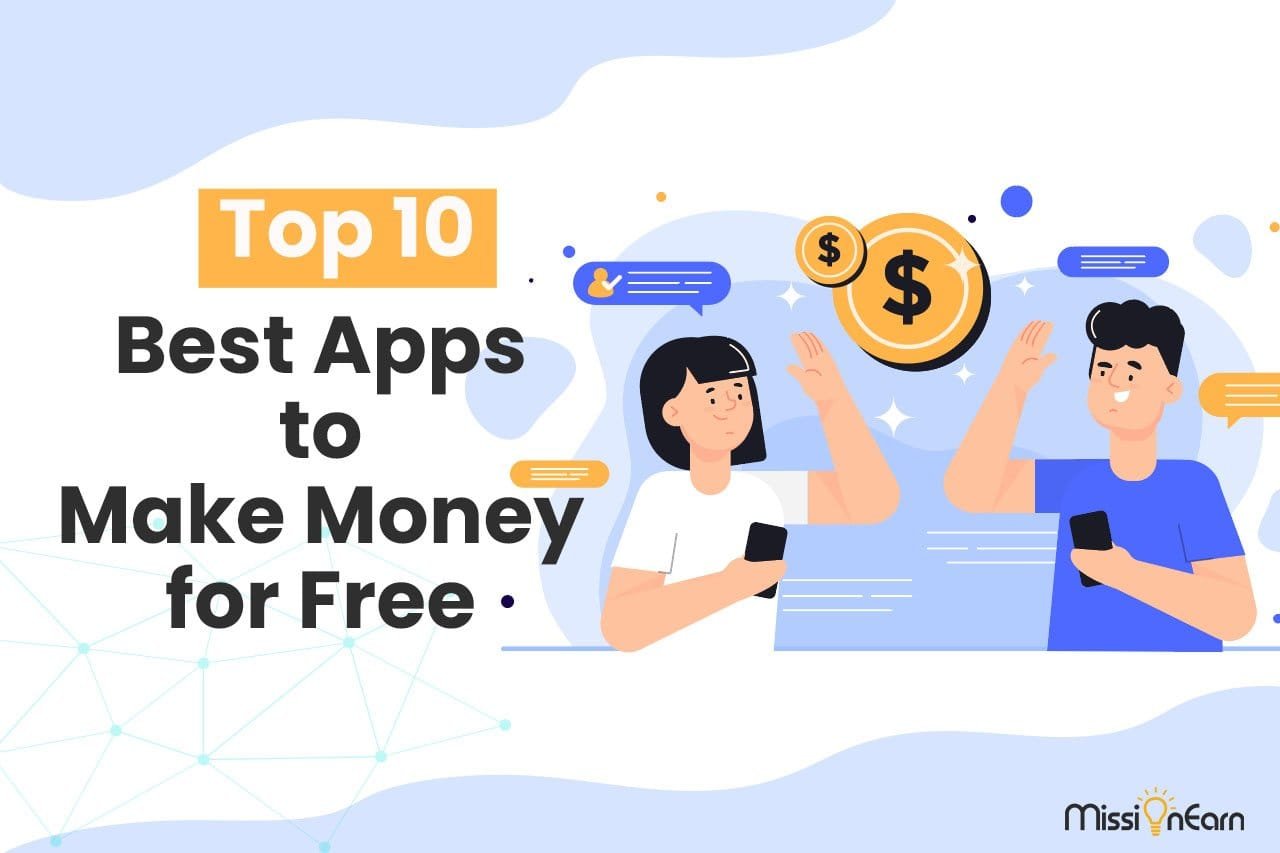 10 Best Apps to Make Money for Free in 2022
Looking for the best apps to earn some extra cash? We have researched thoroughly and listed 10 10 Best Apps to Make Money for Free in 2022.
The average person spends about 4 hours a day on their cell phone and about 90 percent of that time is spent using apps. So why not use apps to earn some hard cash.
We have listed down our favorite money-making apps that will help you earn cash.
[Advertising Disclosure: Missionearn.com makes profits when our readers make a purchase from our affiliate links. Also, as an Amazon Associate, we earn from qualifying purchases.]
10 Best Apps to Make Money for Free in 2022
1. Swagbucks
Swagbucks is a great website to earn side money. By doing things like watching videos, searching the web, and completing surveys, you can earn "SB" points, which can be redeemed for cash or gift cards from retailers like Amazon, Walmart, etc.
You can make this even easier now by using the Swagbucks app instead of just on your computer. Swagbucks has become one of the most active websites on the web. It has more than 10 million members. This is one of the best apps to make real money.
2. ySense (Formerly Clixsense)
ySense (ClixSense) is an online review website for those who are looking to earn some extra money. You just have to complete some simple tasks like taking online surveys, completing simple offers, and more.
The registration process for ySense (ClixSense) is simple and free. It also offers many payment options including PayPal, Skrill, Payoneer, Amazon Gift Cards, etc.
3. Survey Junkie
Survey Junkie is a platform that facilitates online surveys from the general public. In return for spending the time filling out surveys, the company pays you a small commission.
It is great if you're looking to earn a bit of extra cash on the side, all from within the comfort of your own home. Also, you don't need any prior skills or experience to take part.
4. Airbnb
If you have got a room in your home you're not using, you can rent it out with Airbnb and earn a decent amount of money. All you gotta do is manage your guests, reservations, and keep your home clean and ready when guests arrive.
Airbnb hosts make, on average, about $924 a month. Of course, that income can vary depending on where you're based, how frequently you rent out your place, the quality of your home, and the services you provide.
5. Fiverr
Fiverr is one of the top freelance platforms in the digital world where you can sell your services and earn loads of money. You can either search through jobs offered by sellers, known as gigs, or list a job and have them come to you.
You can charge a fixed amount or on an hourly basis for a particular project. There are many online services you can provide as a freelancer. Some freelancers earn $2000+ a month from Fiverr. It is one of the best apps to make money.
6. Google Opinion Rewards
Google Opinion Reward is another survey app from Google that lets you get surveys. With this app, you get rewards that you can use in the Google App store.
The surveys are generally pretty short and can include things like rating different ads. Google Opinion Rewards is a definite must-download for those looking to profit from their smartphone addiction and get paid for being opinionated.
7. Task Rabbit
Task Rabbit is an app where you can earn money by completing basic tasks like cleaning houses, making deliveries, or completing "around the house" tasks, such as installing a new faucet or putting together a bookshelf.
You can earn money for completing these things for your neighbors, and then you can cash out your money.
8. Upwork
Upwork is a freelancing platform one of the best apps to make money similar to Fiverr and Freelancer.com. You can sign up and create a profile that highlights the skills you have to offer. Clients (business owners, startup people, entrepreneurs, etc) post jobs on Upwork when they need help getting a job done.
You can find work as a virtual assistant, a writer, or a web developer. And you can set up the app to get notifications of job openings and more.
9. Earny
Earny connects with your credit cards to automatically search for price drops and refunds. This means if the price drops within a certain amount of time of your purchase and is subject to price protection policies, you get a refund.
The app takes some commission of the refunds you get. But since you probably were never going to remember those policies nevertheless, it's still free money.
10. Acorns
Acorns is an investing and savings app acorns that help you in tracking your daily finances, savings, or investment strategy that fits your profile.
You also get a $10 signup bonus when you register with them. The money in your Acorns account is invested in six different exchange-traded funds (ETFs).
Conclusion
Now that you know about the Best Apps to Make Money for Free in 2022 you can signup with them and earn some side cash. Be patient with the work you do, you will need hard work to get on the right track, but once you get used to the apps you will find it easy to earn.