9 Best Payment Gateways for Ecommerce Website in 2022
What are the best payment gateways for an ecommerce website in 2022? A lot of people are looking for answers to this question. After all, a payment gateway is a tool that holds the success of your online store.
If people like products in your store and they want to buy them, which is not possible without a proper payment gateway.
Hence, we are listing down some of the top and best payment gateways for your ecommerce website or store. But, before that let's go through some of the basics.
[Advertising Disclosure: Missionearn.com makes profits when our readers make a purchase from our affiliate links. Also, as an Amazon Associate, we earn from qualifying purchases.]
What is a Payment Gateway?
A payment gateway is a software application that enables the secure transfer of Credit/Debit card information from a website to the payment network for eCommerce payments.
It acts as a middleman between your online store and the payment processor that receives the payment from your customer and also acts as the bridge between your product sales and the customer.
All you need to do is to enter the details of your credit card on the payment gateway page and make the purchase. An ecommerce payment gateway is responsible for all transactions of the store.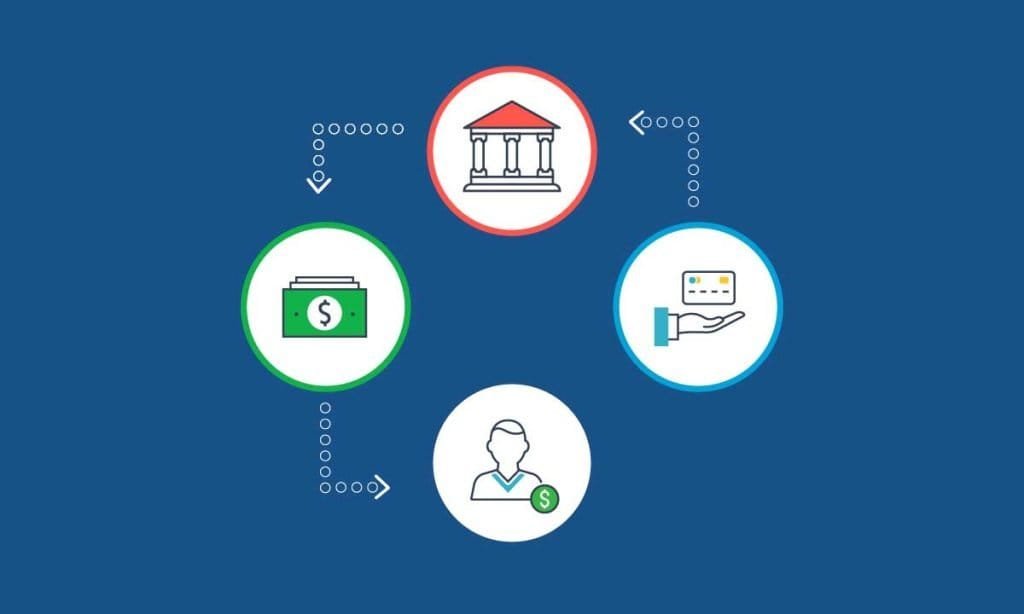 How does Payment Gateway work for an Ecommerce website?
A payment gateway mainly focuses on securing the sensitive information given by the user for payment throughout the process. It also ensures security by encrypting data like card and bank details that have been provided by the user.
The main function of the payment gateways is to make payments secure, effective, and easy.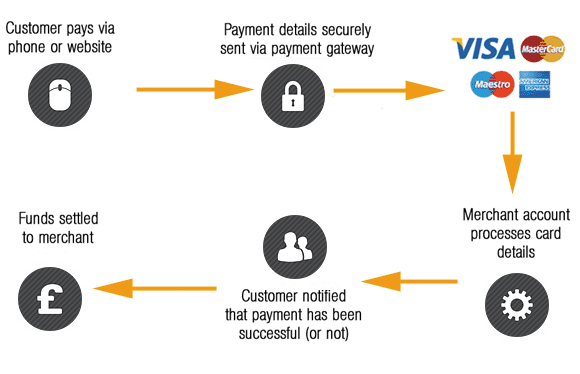 The following are the basic steps showing how a payment gateway functions.
Step 1: A customer places his order on the website and checkouts for the payment.
Step 2: Then he is transferred to the payment gateway where they have to enter information about the bank or the card they are using to pay.
Step 3: The Payment Gateway then takes the user directly to the page of the issuing bank requesting for the transaction to be approved.
Step 3: Once it is authorized the bank then checks if the customer has sufficient balance in the account.
Step 4: Depending on the availability of the balance, the further process takes place, if the customer has sufficient balance then the transaction is completed if not, it is canceled.
Step 5: After that, the money is settled by the bank with the payment gateway, which in turn settles the money with the merchant.
Step 6: Once this process is completed, the customer gets a confirmation message of the order being placed. The customer also receives a message from the bank regarding the transaction.
How to Pick the Best Payment Gateways for Ecommerce Website?
Before you choose an eCommerce payment gateway, there are some factors you need to consider:
Choose a payment gateway that is accepted in the country which you are targeting to sell your products.
Make sure the payment gateway offers a low transaction fee.
Ensure that the payment gateway comes with multi-currency support if you are looking to target multiple countries.
Evaluate that the consumer doesn't need to signup to the payment gateway to make payments, it should happen directly within your website.
Check out whether your payment gateway accepts credit card, debit card, and other payment types.
Also, check if the payment gateway is not asking the user to full up unnecessary information.
9 Best Payment Gateways for Ecommerce Website
While choosing your payment gateways, make sure it meets all the requirements of your business. Here are the top 10 payment gateways that we recommend for your business needs:
1. Authorize.net
Authorize.net which was established in 1996, is one of the oldest and most trusted payment gateways available for credit card users. It also features multiple extensions for easy integration with WooCommerce stores.
This supports several payment methods like Visa, Mastercard, Discover, and more. It is currently available in 33 countries.
Authorize.Net Processing Fees is 2.9% + 30¢ per transaction and an additional $25 Monthly gateway fees for their "all-in-one" payment provider option.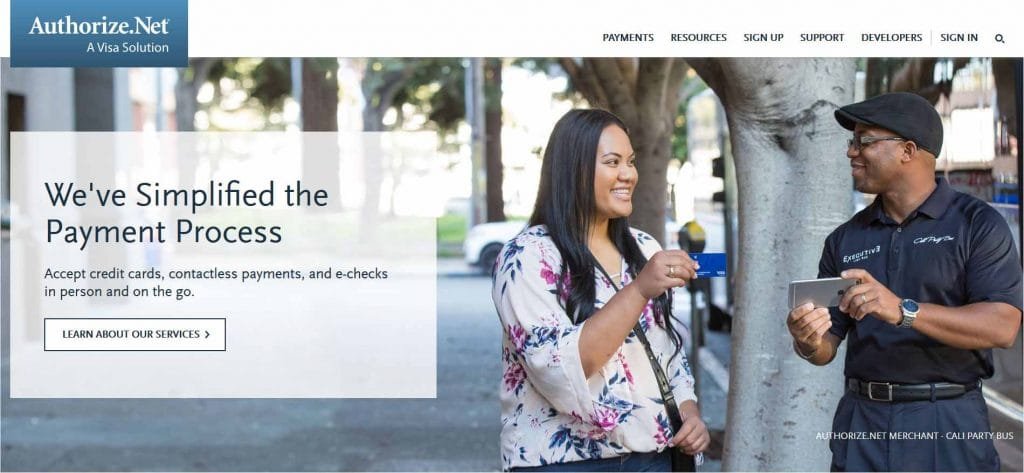 2. Paypal
PayPal is the most recognized and most famous payment gateway in the digital world. It is also one of the most reliable and secure ones is accepted by millions of brands and is used in almost every single country.
Paypal is an active and accepted payment gateway in more than 203 countries. It supports all prominent credit cards: Visa, Mastercard, American Express, Citibank, and more. It also has a comfortable and easy checkout interface.
Paypal charges a transaction fee of 3.4% + $0.30, other than that, there are no setup, gateway, or even monthly fees. It is one of the best payment gateway for international transactions.
3. Stripe
Stripe was established in 2010, is a US-based payment gateway that's available in more than 25 countries. It supports all major credit cards. But, it is mostly used in Canada, Australia, and the United Kingdom.
It offers integration with all major e-commerce systems and has easy to use interface. Stripe also guarantees transaction security and stores all credit card numbers and transaction details in a secure way.
Stripe charges 2.9% + 30¢ per credit card transaction amount within the US, and +1% when accepting international cards.
4. Braintree
Braintree presently tops the mobile payment gateway platform that specializes in mobile and web payment systems for e-commerce companies. It is different in its programming and the code can be set specifically into a merchants' online site.
As a PayPal service, it offers a secure checkout experience to customers, thus encouraging them to return to the website.
Braintree charges processing fees of 2.9% + $0.30, other than that, also no setup or payment gateway fees.
5. 2Checkout
2Checkout.com was founded in 1999, it offers services in 196 countries and accepts payments in the form of credit cards, PayPal, and debit cards. If you are looking for instant payments, there is nothing better than 2CheckOut.
One of the best things about 2Checkout is that it allows you to integrate their payment gateway with all popular e-commerce platforms, you also get access to a hosted shopping cart for maximum conversion.
It charges a processing fee of 3.5% + 30¢ per transaction, no other hidden charges.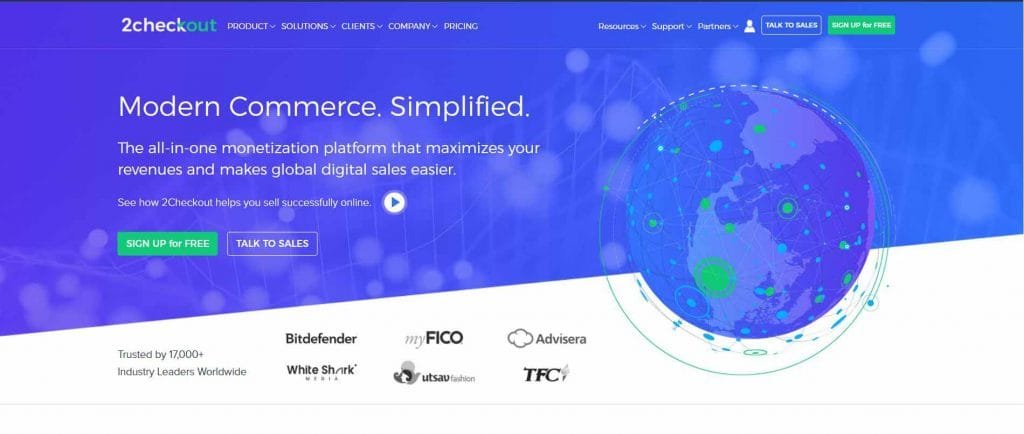 6. Skrill
Skrill is an eCommerce payment gateway designed for both businesses as well as consumers. It helps you make international transactions, pay for products and services wherever you are with the help of a dedicated mobile app.
It also offers an official extension for integration with WooCommerce-based dropshipping stores.
There are no charges on creating an account on Skrill, but they charge a 1.9% processing fee.
7. Google Checkout
Google Pay is another great option for ecommerce store owners in the western region. Many people in the US and Europe use Google wallet, using it they can easily pay with Google checkout option.
It is not yet available in all major countries. It charges 1.9% + $0.30 per transaction. Also, there are no monthly, setup, or gateway service fees.
8. Apple Pay
Apple Pay is a digital service from Apple designed to pay bills and send money to friends and family. It is one of the most widely used contactless payment gateways in the market.
With this, customers can easily pay with the click of a button. The contactless payment gateway accepts Visa, Master Card, American Express, Union Pay, QUICPay, and Suica.
9. PayU
PayU, a product of an Indian payment-processing corporation, is one of the easiest eCommerce payment solutions. It has the best conversion rates and acceptance over several other payment methods. It can be also integrated with any website or store.
This Payment Gateway allows payment with just a single tap. It is also used by top brands like Netflix, Airbnb, and Bookmyshow.
It charges 2.9% + $0.30 per transaction. Also, there are no monthly, setup, or gateway service fees. It is one of the best payment gateway for small businesses.
Conclusion
This sums up the topic of payment gateways and how to choose the perfect one. So now you can help your customers reach out to you better by offering them a faster and easier way to pay for what your online store is selling.